Meghan Markle's BFF, Canadian stylist Jessica Mulroney, turned heads as she entered Windsor Castle's St George's chapel in a tight royal blue number Saturday morning. The custom Di Carlo Couture tea-length, fit-and-flare dress gave anyone paying attention major Pippa Middleton circa 2011 vibes.
Let us refresh your memory. Pippa unexpectedly stole the show at sister Kate Middleton's wedding after her own figure-flattering Alexander McQueen dress made her an instant, viral sensation. Her butt inspired Facebook fan pages and Twitter accounts! She was a good sport about the ordeal, famously quipping three years later: "As I have found out, recognition has its upside, its downside and – you may say – its backside," adding that the dress "fitted a little too well."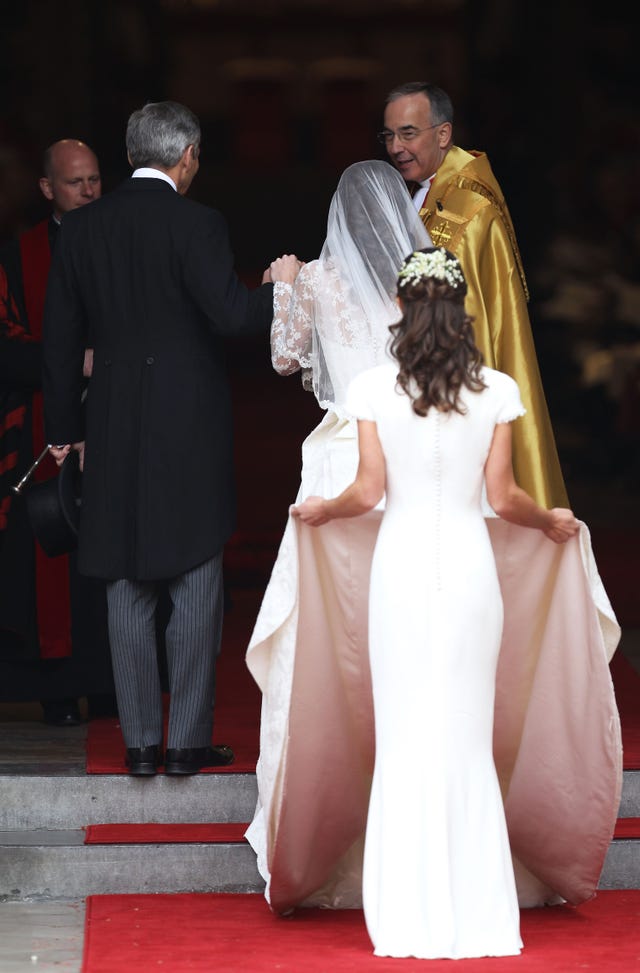 Mulroney's Pippa moment happened as she was helping Middleton usher in the bridesmaids and page boys, which included Mulroney's twin sons Brian and John, 7, and daughter Ivy, 4.
Now, Markle and Mulroney met and bonded over a shared love for yoga when the actress moved to Toronto in 2011 to film Suits. They became fast friends, even attending the same yoga, hairdresser, and manicurist. "Meghan really looks up to Jessica," royals reporter Katie Nicholl, author of Harry: Life, Loss, and Love, previously told Cosmopolitan.com. "For years, she styled herself on Jessica."
Prior to her wedding, Markle leaned on Mulroney as an "unofficial wedding planner," consulting over the phone and attending dress fittings. Nicholl said: "She helped Meghan choose the dress designer and is helping with all the details of the wedding planning behind the scenes."