In celebration of Calvin Klein's 72nd birthday, we look back at some of his most iconic designs.
1. Zoe Saldana at Berlin Fashion Week, 2010
Related: Zoe Saldana: My Babies Come Before My Career
2. Jennifer Lawrence at the Academy Awards, 2011
Related: Jennifer Lawrence Hates Time Off
3. Taylor Swift at the iHeart Radio event, 2014
Related: Flashback to 1989
4. Cher's dress in Clueless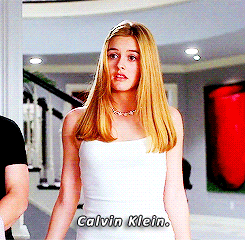 5. Emma Stone at the Golden Globes, 2011
6. Rihanna at the GQ Men Of The Year party, 2012
7. Claire Danes at the Golden Globes, 2011
8. Lupita Nyong'o at the Critics' Choice Awards, 2014
9. Olivia Wilde at the Ace Awards, 2012
10. Naomie Harris at the Cannes Film Festival, 2013
Read more celebrity fashion.
Read more celebrity news.
Read more fashion news.