If your first thought is, 'Wow, this girl only hates squads because she isn't in one,' you are correct! I have never been in a squad, at least not one that didn't fizzle out or disperse as half my friends got older and moved across the country.
I have a handful of really close friendships that I wouldn't trade for the glitziest group pic, but every time I stumble upon someone else's Insta gallery of their six-person tropical vacation complete with colourful drinks, cocktail umbrellas, and sunset selfies, I get jealous. In those moments I immediately want a Taylor Swift-sized girl gang, even though I've always gravitated to one-on-one friend time so much more.
But is my FOMO legit, or are squads a little bit bullshit?
1 The internet makes squads look more common than they are. And that's bad
We all know that social media doesn't always depict reality. 'People want to appear to others as being popular and well-liked, so it is not surprising that there is a tendency to selectively post photos with large groups of friends or at social events,' says Dr. Pickett. 'This can lead social media users to believe that they are in the minority in terms of having just a small circle of friends, when in fact they are pretty much like everyone else.'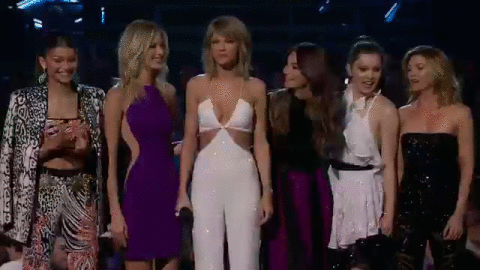 Naturally, you're prone to thinking that what you see on Instagram or Facebook represents real life, even when you know people are only posting their personal highlight reels. That leads to the inevitable crappy feeling of stacking yourself up against people who seem like they have way more friends than you.
'We know from the research on social comparison that people spontaneously and automatically compare themselves to others and that this does affect self-evaluation,' says Pickett. 'So, yes, people with only a few close friends could start to feel bad about themselves if exposed to these images.'
2 It's pretty hard to truly have six or seven equally-best friends
So the popularity of squads is exaggerated on social media – but how easy are they to have IRL? 'Any kind of social relationship requires some investment of time,' says Dr. Pickett. 'The problem is that when one has lots of friends, one may not be able to invest as much time as the friend would like. For example, always being too busy to call or go to dinner. It is possible, but likely very difficult to have six or seven best friends.'
Everyone knows that having a fun group to drink with and having a best friend you can talk about anything to , are very different things. A squad can be great to party with, but referring to every single person as a #BFFforlife is probably a little inaccurate (unless you really do have time to individually hang with every person, in which case, TELL ME YOUR SECRETS).
'As [they] get older, people start to prune their social networks and focus on those individuals and relationships that are more emotionally satisfying.'
3 Focusing on having lots of friends can actually make you lose some
On top of it being tough to truly be ride-or-die best friends with every single person in your squad, prioritizing quantity over quality in friendships can, well, make you lose some great people.