It's been a rough year for women — especially for those who belong to other marginalized groups, too — and many, many men aren't coming out of it looking too great. Since my political despair has correlated with the decimation of my patience for bullshit male behavior in my personal life, here's a list of what I'm not putting up with from dudes in 2017.
1. REFUSING TO LET A DISCUSSION GO.
Whether you're attempting to draw me into a Gchat discussion of what the new Star Wars movie got wrong or monologuing at the group dinner about how the restaurant's food isn't really ~authentic~ (when it's not even your culture's cuisine), my not engaging you is not a violation of your right to free speech. Maybe what it means is that I'm tired of talking about this, or to you. Neither I nor anyone else around you owes you the other half of a conversation you've decided you want to have.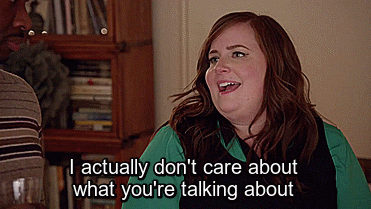 2. 'PLAYFUL' LEWDNESS.
I'm not talking about catcalling (although stop it with that too) but about unsolicited sexual comments from guy friends in text and IRL conversations. I love me some innuendo and/or sexting with someone I have a sexual relationship with, but if we haven't established one, don't 'joke' that my outfit gave you blue balls, or that you bet I'm crazy in bed since I write about sex and relationships. I don't think it's necessary to sit a guy down for a come-to-Jesus talk about respect every time he crosses the line (exhausting) — it depends on the relationship, but a flip 'Wow, you're doing a scarily good impression of a total creep right now!' is to-the-point and generally pretty effective, in my experience.
3. PINNING MY BEHAVIOUR ON MY MENSTRUAL CYCLE.
Fuck. This. Fuck this a million ways to Sunday. There's a term for men who do this, coined by Jessica Bennet in her book Feminist Fight Club. They're Menstruhaters, and portmanteau or no portmanteau, this behavior is sexist and gross. I can tell you if my hormones are fucking with me and I'm in a bad place. I'm allowed to blame PMS for my reaction to emotionally manipulative advertising or my bout of deep and otherwise inexplicable sadness. But you cannot throw my period in my face to discount me and if you even fucking think about tracking it to know when to 'avoid' me, please preemptively avoid me forever.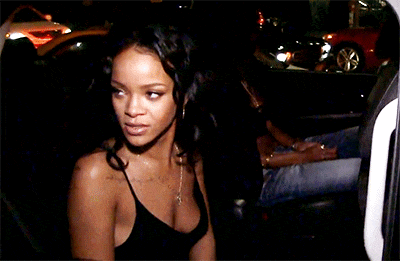 4. ASSUMING I'M DOWN TO HELP OUT WITH…WHATEVER.
Editing your thesis. Giving your res roommate's little sister's best friend career advice (negative a million points if you put me and her on the same email without asking me first — I'll say yes if you ask, anyway). Promoting your 'pro-women social impact event' because, hey, I'm a woman so I must automatically want to sacrifice my time and energy to the success of your selfless endeavor, right? It is one thing if you ask politely, and it's one thing if I offer (I happen to like editing). And I know, I know, looking back on thousands of years of history, you might get the impression that women and unpaid labor go together like tacos and Tuesday. But acting like you have a right to my time just because because you perceive me to have the ability to help you out is presumptuous and annoying and just not true, bro.
5. COMMENTING ON MY WEIGHT.
This one seems obvious: It's out of line for either a guy friend or someone I'm dating to tell me I'm looking heavier than usual. But I've also asked the guy I'm seeing to stop commenting if he thinks I'm down a few kgs. Hearing 'Have you lost weight?' from him felt like a compliment, and I know he meant it as one, but when I didn't hear it I wondered if was I looking heavy, while also conscious that there is nothing wrong with looking heavy and… well, body image is complicated enough. Now I'm choosing a world in which men don't get to have opinions on my size. 'You look amazing' is great. 'You look toned' is also nice, especially since I just started going to the gym and I want immediate validation for it. But comments on my weight are no longer in the scope of feedback I'd like to hear.
6. EXPECTING PRAISE FOR TASKS THAT ARE YOUR RESPONSIBILITY.
Did you use a dish and then wash it? Get a flu shot so that you don't kill any small children by infecting them? Call your mother to wish her a happy birthday? Good, because that was kind of the minimum required of you and no, I am not organising a parade in your honour.
7. TELLING ME I'M 'NOT LIKE OTHER GIRLS.'
This 'compliment,' which apparently guys still give because I recently got it from a dude at a bar five minutes after I met him, is of course predicated on the assumption that being like a girl or woman is a shortcoming, and that I could have no higher aspiration than to transcend the manifold limitations of my embarrassing gender. The subtext: 'I don't think very highly of women, but you can be the exception to the rule as long as you keep acting in a way I like. Keep up the good work!' Goodbye, running away to wherever all those other girls you've known escaped to hide from you!
To the dude at the bar who told me "You're not like other girls" just after meeting me, omg you're right, you really get me, let's have sex

— Hayley MacMillen (@hlmacmillen) December 4, 2016
9. INSISTING YOU'RE 'ONE OF THE GOOD GUYS.'
Down with the myth of Other Girls, and down with the myth of Good Guys. When you make a sexist, racist, homophobic, transphobic, xenophobic, Islamophobic, antisemitic, or ableist comment, you can't expunge it by adding, 'You know I didn't mean it like that, I'm one of the good guys!' If someone for some reason chooses not to date you, kindly spare them your thoughts about how you are such a nice guy and how if that person wants to date jerks it's their loss, and possibly see a therapist to work on that sense of entitlement. Doing the right thing in some contexts doesn't mean you can't be an asshole in others; none of us get cookies for not being garbage fires.
10. WEARING CARGO PANTS.
In 2017, just don't.
This article was originally published on cosmopolitan.com.