Having a baby at a relatively young age can be hard work. You know what else can be tough? Answering all of your dumb questions.
1. 'So were you … using anything…?' Does it suddenly become normal and polite to ask people intrusive questions about their birthcontrol choices and sex life just because they have a human infant in their arms? No, it doesn't. Mind your manners.
2. 'Did you consider getting rid of it?' Even if we're pro-choice, it feels a little awkward when you refer to our baby as 'it' and ask us such weirdly personal questions. Besides, why assume that there was any 'accident' involved just because of our age?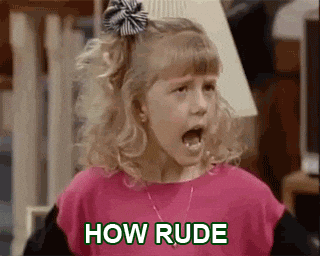 Related: 21 Signs You Grew Up with a Jewish Mom
3. 'You look way too young to be a mom!' Women have been reproducing below the age of 30 since the beginning of time so it shouldn't actually look that unusual.
4. 'Don't you miss going out and having fun?' Sure, going out and having a few cocktails with adults would be nice every now and again, but this is hardly something that appears on our radar these days. We'd miss our little mini-me far more than we miss waking up in the morning with a hangover from hell. And we do have fun, just in new and different ways.
5. 'It'll be nice for your son/daughter to have a young, cool mom.' Unfortunately, being young doesn't necessarily make us cool.
Related: 5 Reasons Why Wonderwoman Has Nothing on Your Mom
 6. 'Is his dad around?' You don't need to automatically assume that there's some super-dramatic Teen Mom  situation going on in our lives just because we have a kid in our early 20s. Yes, his dad is around, and he's the best dad in the world. And if he wasn't, this question coming from a relative stranger would be super-awkward. So shaddup.
7. 'Did you not want to wait so you could build a career first?' It's funny that you assume that I have no career just because I have a child. Some young moms aren't all that interested in 'building a career', which is totally fine and not at all something to look down on, and some of us do have careers and families. We're rocking both like a boss.
Related: Watching These Kids Do Their Moms' Makeup Will Make Your Heart Melt
8. 'How can you afford to raise a child at your age?' Okay, this is a really annoying one. Asking anyone about their finances is always rude so stop doing that in general. Also, the underlying implication (that we're relying on family/government support/anyone but ourselves to raise our child is just so irritating and unpleasant. Maybe we have a job, maybe we get support from loved ones, whatever – either way it's none of your business. Do you want to show us your bank statement? Didn't think so.
9. 'You're not like most young moms.' How many young moms do you know, exactly? Maybe we just don't fit a stereotype that you had in mind. Sorry.
10. 'You chose to have a kid so don't complain about the hard parts.' Every mom, no matter their age, hates to hear this. Being a mom is a full-time job in its own right. It comes with some difficult moments, and a woman has a right to complain if she feels overwhelmed. You just might complain too, when your time comes, and then you'll wish that everyone understood just how tired you feel/greasy your hair is/stained your clothes are. Do a young mom a favour and let her vent – maybe she'll be doing the same for you some day.
Read more conversation starters
Read more health
Read more relationships