Prepare to be flabbergasted but this history of sex!
1. In 2008, archeologists found a 'sex curse' inscribed on a tablet at an ancient Cyprus site: 'May your penis hurt when you make love.' A guy's worst nightmare…
Related: 5 Things we learnt from the guy with two penises
2. The Turin Erotic Papyrus (discovered in Egypt) has been dubbed the 'world's first men's mag' as it depicts various sexual positions. Unfortunately for modern men, you can barely see anything anymore…
3. The ancient Greeks used olive oil as lube…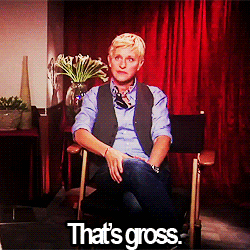 Related: 10 Sex-toy safety tips
4. The Romans used to carry around fascinum – phallic charms that were thought to evoke divine powers from the deity Fascinus…
5. The Aztecs believed that avocados were aphrodisiacs – they referred to them as 'testicle trees'. We have to admit, they do resemble (green) testicles:
6. During the Middle Ages, British men would wear codpieces – a flap or pouch that was said to accentuate a man's manly bits…
7. During WWI, British spies used to use semen as invisible ink…
8. The first dildos were made of stone, wood or tar – OUCH!
Related: 10 Freakishly weird sex toys
Read more sex stories.
Read more entertainment.
Read more conversation starters.