HE KEEPS HIS WORD

When he says he will call you, he does. If he says see you on Tuesday, he doesn't mean a random Tuesday in the next decade. A guy who keeps his word to you cares to win your trust by being dependable because he cares.
'COZ I'M HAPPY
Since you've been seeing him, you've been smiling. No drama about whether or not he is into you, no phone calls to your friends because you saw him kiss some other chick. You're happy because he's not acting the fool – good sign.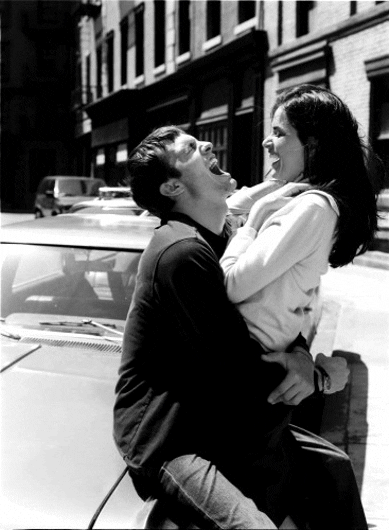 HE LISTENS TO YOU
So you mentioned that you've been looking for a 2001 Destiny's Child CD and then he brings it for you. That's a sign that really pays attention to the things you have to say.
SILLY ME
If you're able to let your hair and your guard down around, be your goofy self and even open up to him about your fears, dreams and goals, then he might be a keeper. Finding someone you can be 100% yourself with is a good sign.
MEET MY GIRL
He makes plans with his friends and includes you in those plans; that can mean that he wants to include you in his world. And we don't mean hanging out at a bar at 2am, we mean actual hanging out where people get to know each other.



RELATED: When He's Not Going To Commit

NON STOP TALK
You are gushing and your friends have heard 100 times about how sweet this guy is and all the nice things he does for you.
WHAT ABOUT THE PARENTS?
You generally omit telling your folks about the men in your life but there's something about this one that makes you want to say something.



CLICK CLICK
You know when you just click with somebody? If that's the case and you guys have similar interests, it could be a sign that this could be a long term thing.
A FOR EFFORT
He goes out of his way to find new spots for you to try or finds weird bands that he knows you would like. This is a guy keen on knowing you better and delighting you with small treats.
M.I.A
Have you fallen off the face of the earth and everyone knows that where he is, you are. If you can't help but want to spend hours lost in your own little universe with him, it could be a sign. If the honeymoon period passes and he's still the one you like hanging with the most and he feels the same about you – win!



HI BABE
He checks up on you for the sake of checking up on you. A random text during the day or a phone call when you least expect it just to say hi.
JOB POLITICS
If your man knows the names, personalities and crazy aspects of your continuous work drama and he eyes don't glaze over when you talk about it – he might be a keeper. This shows he cares about even the petty aspects of your life.
HANDY MAN
We don't mean he must be good at plumbing but a guy who will come around to help you put up your new bookshelf or paint your room is someone who wants to be there for you. He's not just there for sex and a free meal which is a good sign.



SOMETHING TO LOOK FORWARD TO
When you're having one of those days when everything is going wrong, the thought of seeing him at the end of the day makes you smile. That means he's a source of happiness and comfort for you. Those are good qualities in a partner.
RELATED: 5 Things To Do Before You Settle Down

HE GETS YOU
From your odd mood swings to the way you sleep with your eyes half open, if your boo happily accepts all the word, kooky and every down right odd bits of you, he might be in it for the long haul.
Read more about beauty
Read more about sex
Read more about fashion