It's the spooky season, which means that there are tons of classic reruns and brand-spanking-new horror movies to binge on TV and online streaming services. This sparks joy in the heart of many a scary-movie fan (because who doesn't love to feel terrified?) but not just for the adrenaline-filled fear-response reason you might think.
Some people actually find themselves turned on during and after watching a horror film but, weird as it may sound, there is a biological reason for this strange phenomenon.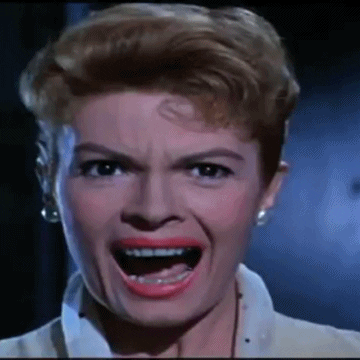 Scary can be sexy
Science is a wonderful thing. It helps us to diagnose and treat disease, understand the planet we live on, develop as a civilization and also holds the answer to why some people get horny when they watch horror movies. It truly is amazing.
According to somatic psychologist and sex therapist Dr. Holly Richmond, PhD, the reason that many people feel turned on when watching frightening films has to do with our body's physiological response to fear, and the natural and hormonal responses that come with it. When we are scared, our levels of adrenaline and cortisol – the stress hormone – increase, which is something that also happens when we are aroused.
Blood also flows to our extremities to help us escape, with our genitals being one region that experiences an *ahem* surge. This led sociologist and fear researcher Margee Kerr to coin the term 'sexy scared', which couldn't be more apt, TBH.
Another reason why you might be feeling frisky after a scary-movie sesh with your SO is that it can be a bonding experience. Because stress can bring people together, as can all the hand-holding and snuggling that invariably happens when there's something scary on the screen.
So if you start feeling hot and heavy next time you are watching Freddy Krueger slice people into tiny bits, don't worry. You're not destined for the psych ward, just destined for the bedroom.
Feature image: iStock
Read More Sex