Younes Bendjima just took to Instagram in response to the news that he and Kourtney Kardashian broke up. On his stories, he attempted to explain those pictures of him in Mexico with another girl.
In the first story, he screenshotted an article about the break-up and wrote 'They really want me to be the bad guy. F*ck your Hollywood bullsh*t ( can't have fun with your friends any more). Where are my 12 other friends? Nice catch, though.'
The next story was this: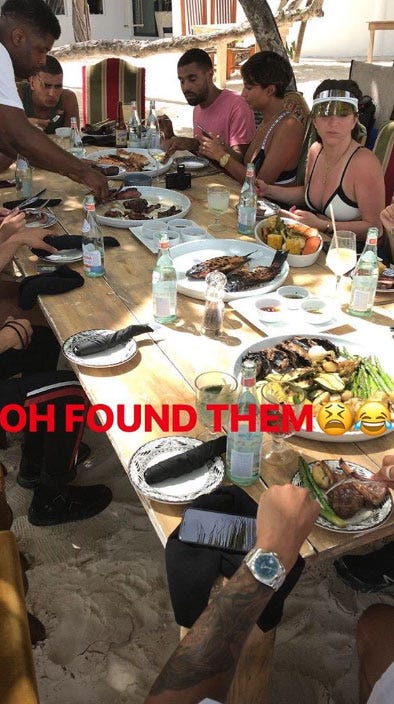 So he's obviously trying to imply that the people he's with are friends. But the problem with that is the photos of him and that other girl are definitely more than friendly-looking. He has his arms around her, they're laying down together, etc. It's pretty incriminating!
Then, he screenshotted two of the other paparazzi photos and made jokes referencing UFC 231 and UFC 232, which are two upcoming mixed martial-arts events (yeah, I Googled it). Not really sure what that has to do with anything but okay?? A weird deflection?
His final Instagram Story was a black background where he wrote 'once again, you guys failed. I'm not attached to this "life" so you can't touch me. I know who I am, where I'm from and where I'm going and that bothers you. Only one opinion matter. The one of my Lord. Have a wonderful day.'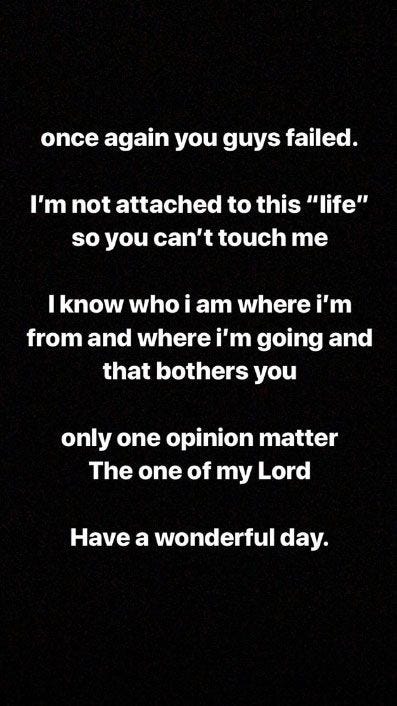 Okay. I have some follow-up questions here. Firstly, what 'life' is he referring to? The Kardashians'? Because from the looks of it on Instagram he enjoyed it. IDK. Second, is anyone *actually* bothered by Younes 'knowing where he's going'?
And most importantly, is this his way of denying or confirming the break-up? Because it's very hard to tell! Either way, the dude seems pissed.
Khloé Kardashian just chimed in on the drama with a subtle but poignant roast. She commented on a screenshot of the article, writing 'Alexa, play Heard It All Before by Sunshine Anderson.'
And considering that song is about a guy who keeps making excuses… DAMN.
This post originally appeared on Cosmopolitan.com
Read more celebs