Shit got reeeaaally real last night when a whole bunch of footage of Tristan Thompson cheating on a pregnant Khloé Kardashian was published.
While on a night out in New York, where his team played a game on Monday night, he was caught 'getting up close and personal with a mystery brunette' – just days before Khlo is due to give birth to their first child!
The woman who took the pics and video published by the Daily Mail, told the publication: 'I was there and he was on the table right next to us with a group of friends and some girl who he was obviously making out with all night.'
'They were holding each other and it was so obvious. They were there when I got there and they were part of a big group of friends.
They were talking and being around each other all night. He was texting and talking on the phone and she was obviously looking over his shoulder.
Everybody knew who he was. We talked about it and everybody watched them make out several times.
I have obviously seen him before and people around me were like, "That's Tristan Thompson" I have seen him on TV.'
Click here to watch the video!
Check out the images, below:
Apparently, Twitter user @hi_helena saw them too.
Ok soooooo Tristan Thompson made out w a chick infront of me at a bar this weekend . Men are trash

— helly (@hi__helena) April 9, 2018
But wait. Cause there's a lot more. A few hours later, videos from ~a whole separate incident~ surfaced. In the video, said to be recorded in October 2017 (way back when Khlo was just 3 months pregnant), Tristan can be seen kissing one woman and motorboating another in nightclub security footage. What.the.actual.fuck, Tristan?
Watch the video published by TMZ, below:
Then… (yes there's even more) another video surfaced featuring one of the woman who he was seen getting some from at the club earlier that night.
Watch the video, below:
The woman seen with Tristan, reportedly known as Stephanie, then allegedly posted an X-rated video of an unidentified man and a woman having sex to her now Instagram account.
She then shared another post claiming that she is also pregnant! Imagine!?
She also shared screenshots of graphic AF sexts sent to her by Tristan:
Khloé and Tristan are yet to comment on the news.
Tristan's ex Jordan Craig, who he left for Khloé while SHE was pregnant (is this bro allergic to the 3rd trimester?), has weighed in saying: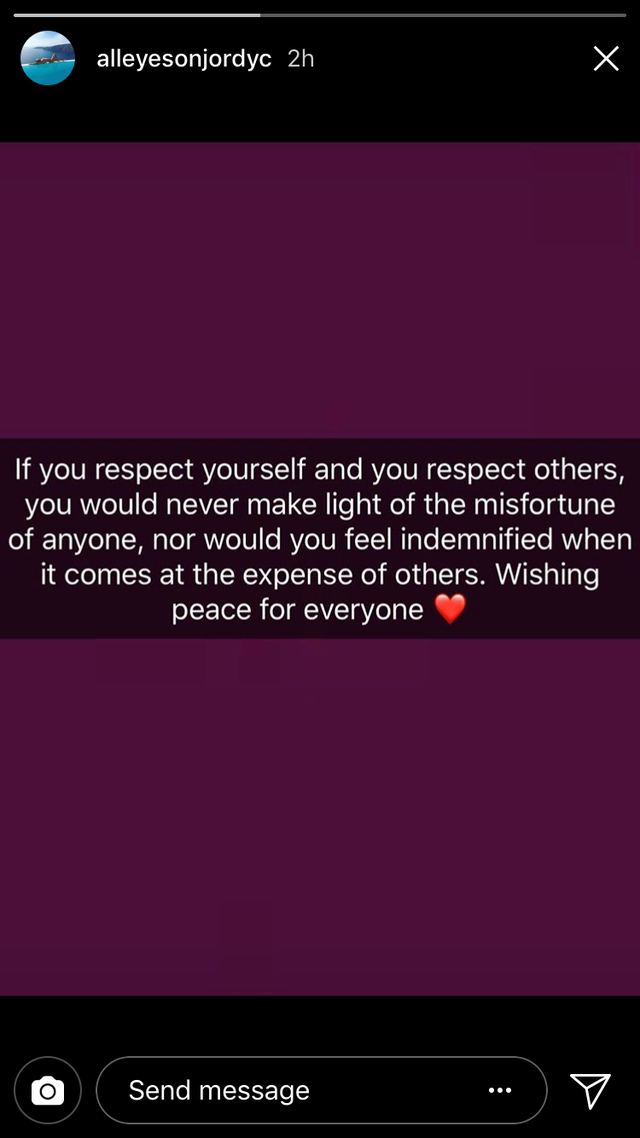 Craig and Tristan have a 15-month-old son named Prince Oliver together.
In related news, the Mirror has reported that the Kardashian-Jenner klan have unfollowed the basketball player on all social media platforms.
'He still follows each member of the famous family on the social media website, but it seems they've immediately turned their backs on him after video of him looking cosy with a group of women surfaced online,' says the publication.
The family are well known for fiercely protecting their own. According to a source for ET Online, 'Kris has gathered the family and made sure they would all be there for her.
'They are so excited for Khloé. Her sisters are being super supportive of her… her family is rallying around her.'
'At this point, Khloé's family wants nothing more than to believe that he is a stand-up guy and that this was a setup,' the source added. 'But only time will tell.'
This post will be updated as more information become available. For Khloé's sake, and the sake of that little baby girl, we hope this story just isn't true (although the evidence seems undeniable).
Read more celebs