Lady Gaga debuted two new tattoos on Valentine's Day on Instagram, including a giant back tattoo in honor of her movie, A Star Is Born.
Lady Gaga and her co-star and director Bradley Cooper have been making award show rounds together lately, so it's no surprise the movie's on her mind.
She also got a second tattoo of musical notes—but it featured a mistake (though not of Ariana-level proportions).
What do you do when you're 'far from the shallow now'? Get a back tattoo, duh. Lady Gaga celebrated Valentine's Day by getting two new tattoos from artist Winter Stone, including an enormous rose on her back—but it's not a nod to her (maybe) fiancé Christian Carino.
'Happy Valentine's Day. A tattoo toast to 'la vie en rose' by the beautiful @winterstone my spinal cord is now a rose,' she wrote.
Gaga's tattoo features a rose sprawling up her back with the words 'la vie en rose,' which is the name of a song she sings as Ally in A Star Is Born. In a particularly Easter-eggy move, this song is also what Gaga herself sang at a fundraiser, and it's what convinced Bradley Cooper to cast her in the first place.
Funny how things come full circle, right? Her second new tattoo is more subtle, and features music notes that spell out her name. Unfortunately though, it also featured a mistake (but not of Ariana Grande-levels).
Lady Gaga's original tattoo had a four-line staff, but it should have five. Luckily, it was an easy fix, and Gaga laughed her way through it.
'what a drunk musical crisis,' she replied to a concerned Instagram commenter. 'I studied music theory…that's what happens when u drink and tattoo.'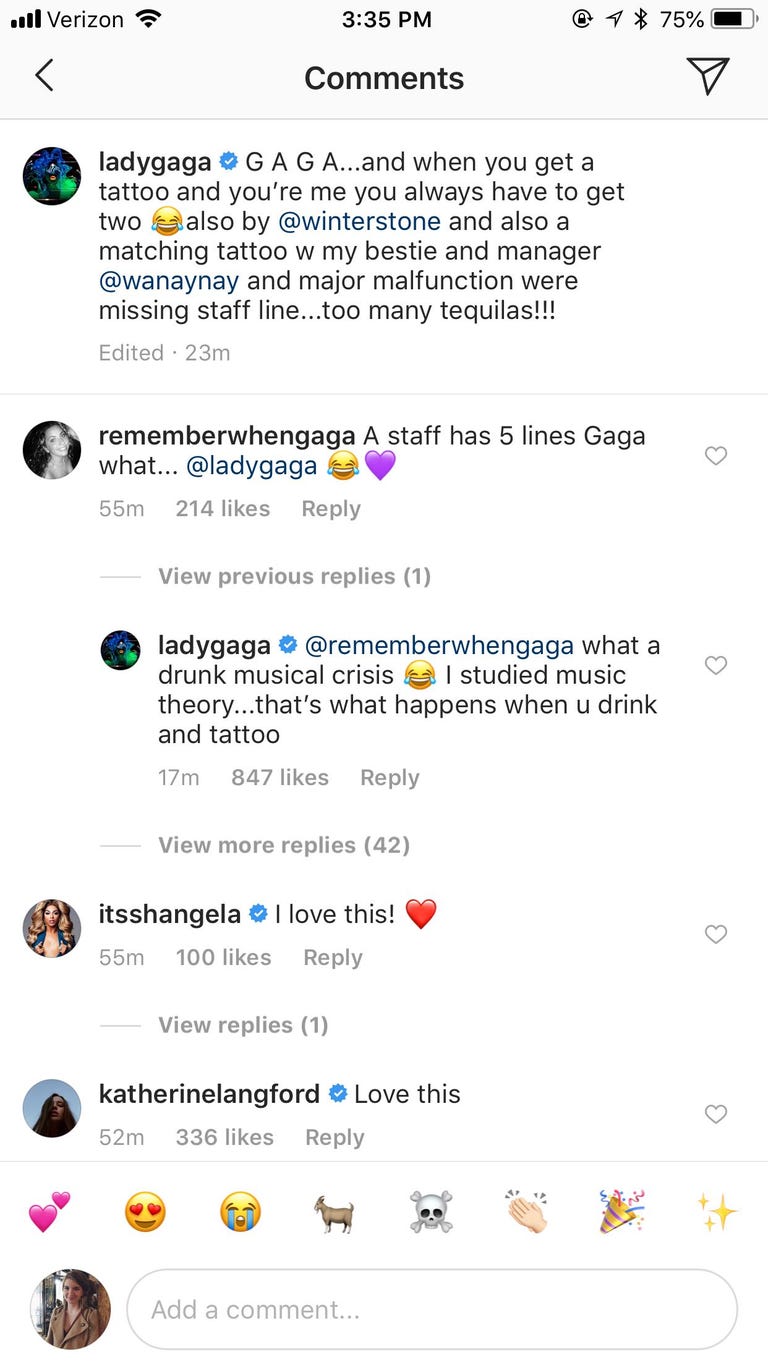 Later, she posed a new video of the corrected tat.
All's well that ends well. Between her and Ari though, if we've learned anything from celebrities this year, it's to tattoo responsibly.
This article originally appeared on Cosmopolitan US
Read more celebs