Our girl Cheryl is back with new single 'Love Made Me Do It', taking to the stage during Sunday night's X Factor for her first performance since having son Bear.
But some viewers were a little ~surprised~ by a specific part of her routine, which involved the singer licking her hand during the lyric 'The ink on my skin, is all the places I've been'.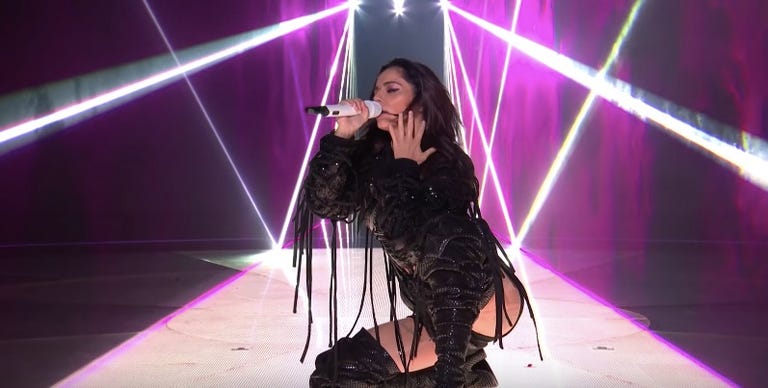 One X Factor fan took to Twitter to write, 'Did anyone else find Cheryl Cole's X factor performance uncomfortable and inappropriate to watch? Orrrr…?', while another added, 'The hand licking thing really put my off my dinner. #cheryl #TheXFactor'
Another added, 'Did I just see right. Cheryl crawling across the stage then licking herself'
It's now been revealed that the pre-watershed performance could face an Ofcom probe. According to The Mail Online, 15 complaints were made to the television broadcasting regulator.
A spokesman has said: 'We are assessing these complaints against our broadcasting rules before deciding whether or not to investigate.'
Despite all this, a number of viewers were actually impressed. One person wrote, '@CherylOfficial was amazing on X Factor, really like that new song I can definitely relate, I always fall for the f***ers too [sic]', and another adding, 'Just watched @CherylOfficial X Factor performance and I genuinely thought she was fab.'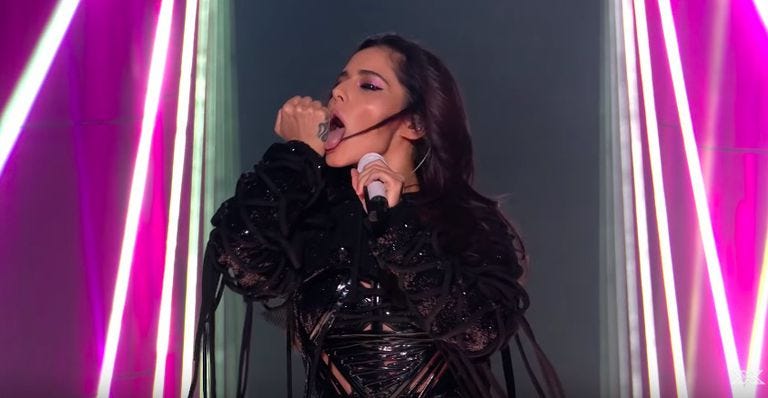 Cheryl: "the ink on my skin"

Her brain
Don't do it
Don't do it
Don't do it
Don't do it
Don't do it
Don't do it
Don't do it
Don't do it
Don't do it

Cheryl: licks her tattoo

— Amie (@AmieBuckle) November 18, 2018
Why did Cheryl just lick her hand ?! #xfactor

— Daisy (@DaisyAsana) November 18, 2018
I LOVE Cheryl but…? That tattoo lick though #XFactor⁠ ⁠

— Holly Roskilly (@Holsx) November 18, 2018
Oh Cheryl need pack up now doesn't she. Why did she lick herself ?

— Christie Fresson (@ChristieFress) November 18, 2018
The performance comes off the back of an X Factor insider telling The Sun on Friday [16 November] that they were worried this performance would be too raunchy. 'Cheryl wants this performance to be remembered and it will be', they explained.
'She has been in rehearsals for the last few days and the routine will see her writhing around on the ground with 12 hot men dancing around her. At one point there were fears the male dancers may even have their bums showing but now it seems they will be more covered up.
'No one has told Cheryl what to do, but they've been keeping a close eye on the creative team so the routine is suitable for a family audience.'
This article originally appeared on Cosmopolitan UK
Read more celebs