As well as the Brit Awards 2019 delivering some naked dressed and a lot of red carpet fashion, it also brought us an acceptance speech from Beyoncé and Jay-Z, aka The Carters.
The pair scooped up the award for the Best International Group, and although they couldn't attend the ceremony at the O2 in London, they did send a video message acceptance speech.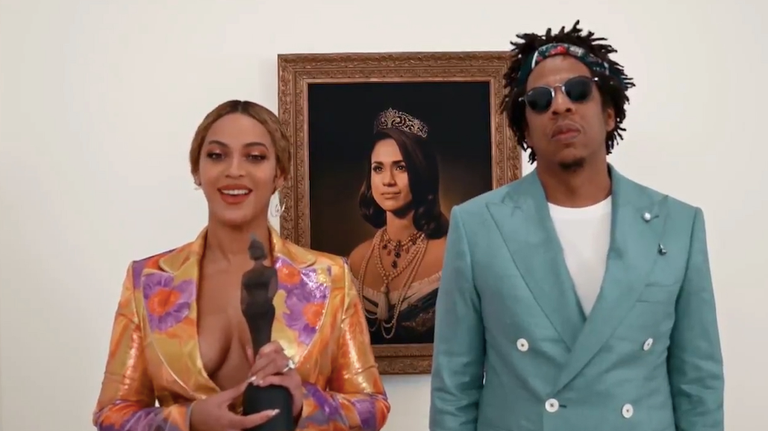 In it, they recreated their 'Apeshit' music video, where they were casually hanging out in the Louvre in front of the Mona Lisa. Only instead of Leonardo da Vinci's painting, they were standing in front of a portrait of Meghan Markle in a crown. But why? Are we missing something? Not that we're complaining.
Viewers on Twitter were equally bemused-yet-loving the unexplained moment, with one writing, 'LMFAO at Jay Z and Beyonce turning to face 'Queen Meghan Markle' !!! #brits [sic]'
Another commented, 'Please. PLEASE tell me I'm not the only one dying at Beyonce & Jay Z stood there with a painting of Meghan Markle depicted as a queen. #BRITS2019', while a third added, 'Omg that was Meghan Markle? I didn't even clock #Brits [sic]'
#BRITS2019 International awards to:
The Carter's win! ??????
I almost spat out my food with the picture of Megan Markle in the photo frame, oh and we hear you blu ??? why???
Well done @Drake
Well done @ArianaGrande

— Sasha Lewis (@therealsasha) February 20, 2019
the HIGHLIGHT of the brits is The Carters paying homage to Megan Markle ??????????????????????????????????

— a babe (@simonejaay) February 20, 2019
THE CARTERS STANDING IN FRONT OF THIS ICONIC PAINTING OF QUEEN MEGHAN MARKLE WE- #BRITs pic.twitter.com/CXOcWsf3vy

— beth (@troianlawrence) February 20, 2019
APESHIT VS BRITS
MONA LISA VS MEGHAN MARKLE pic.twitter.com/iHhcEmaYg7

— BEYONCÉ HUB (@theyoncehub) February 20, 2019
Why have Beyoncé and Jay Z had a picture of Meghan Markle done like that loooool Americans are so weird ? #Brits

— Shelly?️‍? (@shelly_tompkins) February 20, 2019
#BRITS2019 Meghan Markle our queen pic.twitter.com/cGF4OWHibR

— ????????? (@sheabutterbaaby) February 20, 2019
During their acceptance speech, the pair said, 'Thank you so much to the Brit Awards for this incredible honour. You guys have always been so supportive. Everything is love. Thank you. You're Welcome.'
Queen Bey and Jay-Z, always on their own vibe.
This article originally appeared on Cosmopolitan UK
Read more celebs