Celebrities love going all out for Halloween (please see: Heidi Klum every damn year), but sometimes they pick outfits that are… iffy at best and completely WTF at worst. No star is fully immune from a Halloween controversy, so don't freak out when you find some of your faves on this list – here, 15 of the most controversial costumes ever, including that awkward time Ashley Benson dressed up as Cecil the Lion.
Lily Allen as Dr. Luke
Once upon a time, Lily Allen was trying to decide what to be for Kate Hudson's 2014 Halloween party, and went with producer Dr. Luke. Like, right after Kesha accused him of sexual assault—complete with a name tag that read, 'Dr. Luke Gynecology Department.' Lily got called out for this costume being in poor taste and for trivializing a serious subject.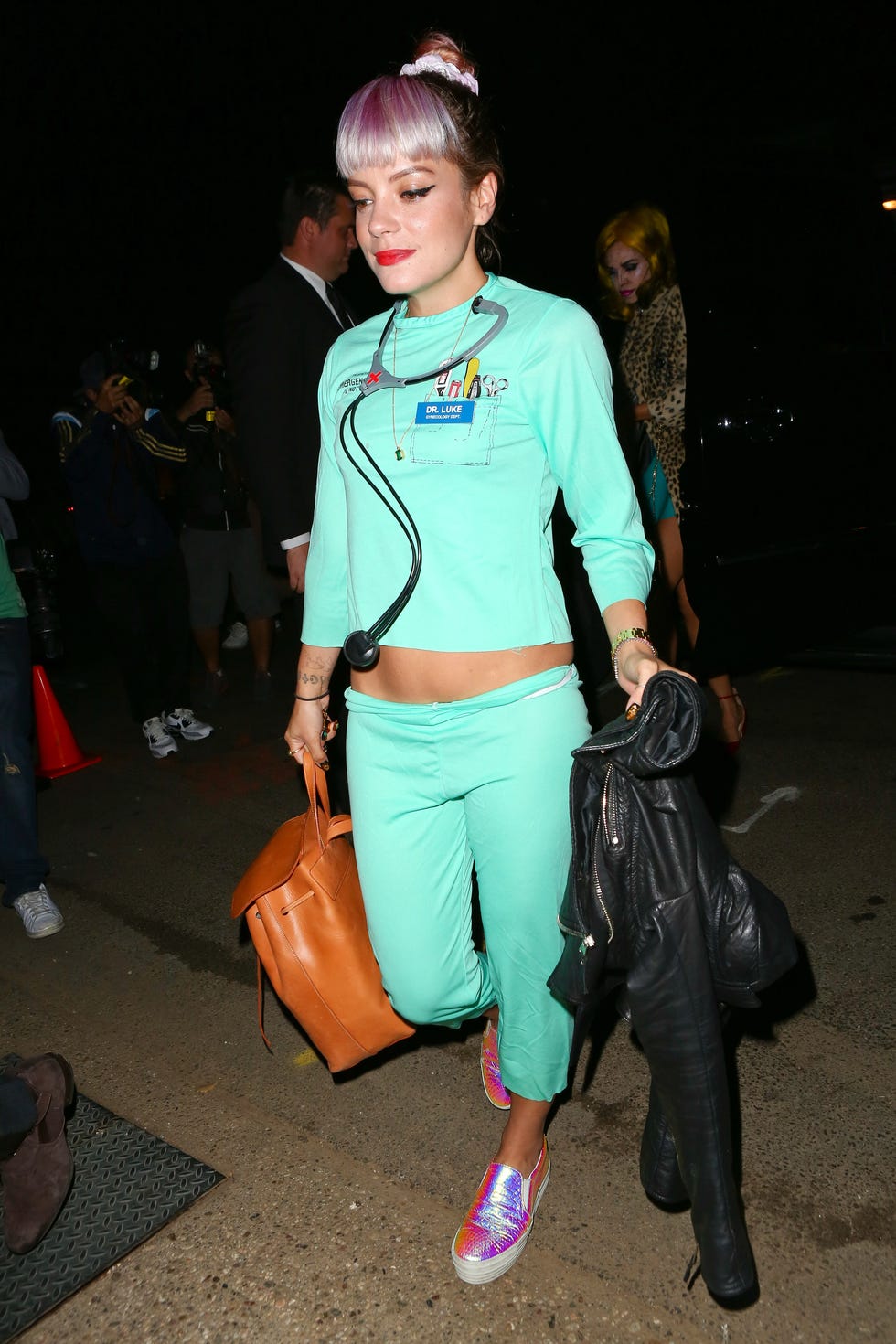 Luann de Lesseps as Dianna Ross
Last year, Real Housewife Luann de Lesseps decided it would be a good idea to dress up as Diana Ross for Dorinda Medley's Halloween party. Luann was accused of blackface and cultural insensitivity and later apologized on Watch What Happens Live.
'I had bronzer on that I wear normally like the rest of my skin. I'm tan, like right now,' she said. 'So I didn't add anything or would ever, ever dream of doing a blackface. Ever … I'm very sorry to everyone out there if I offended anyone.'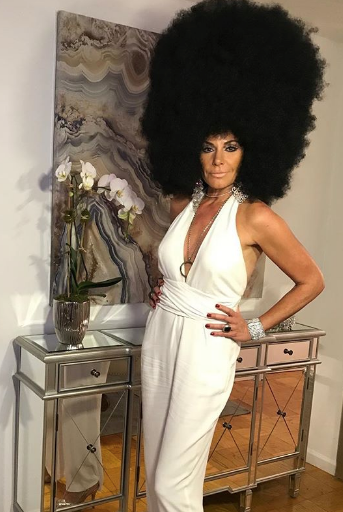 Chris Brown as a 'Terrorist'
Join me in a collective eye-roll at Chris Brown thinking it was OK to dress as a 'terrorist' in 2012. The photos were taken at Rihanna's Halloween party in West Hollywood.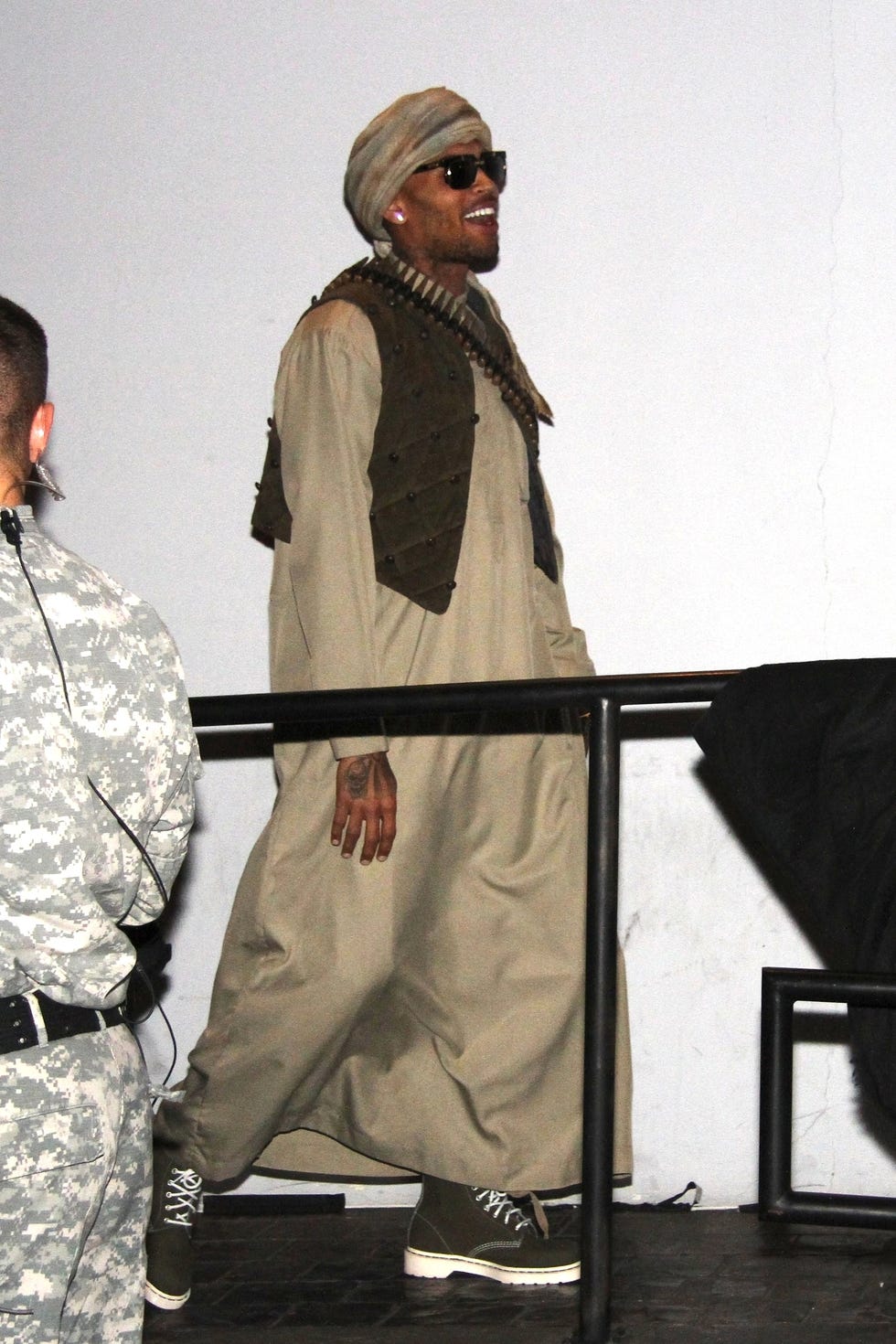 Julianne Hough as Suzanne 'Crazy Eyes' Warren
Remember when Julianne Hough went as Suzanne 'Crazy Eyes' Warren from Orange is the New Black for Halloween 2013 and straight-up wore blackface to a party in Beverly Hills?
The actress issued multiple apologies following the misstep and told Allure in 2015, 'Ignorance is sometimes not bliss; I really had no idea what I was doing, and it was all out of fun and respect for the character … I don't even know how to talk about it because it's such a sensitive topic. It makes me so sad to think that I was that dumb. I learned a big lesson.'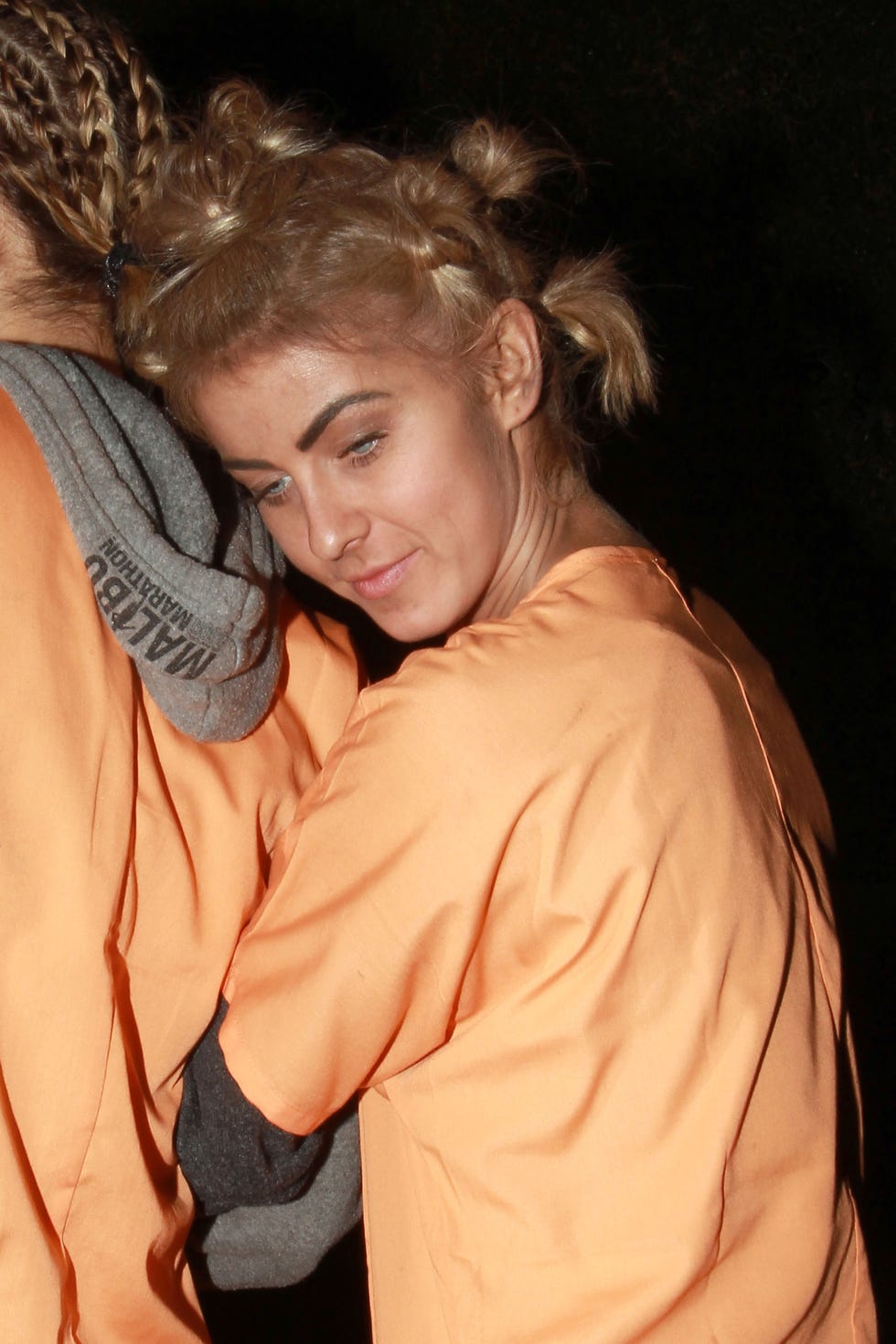 Jemima Khan as Melania Trump
Producer Jemima Khan dressed as Melania Trump for the UNICEF Halloween Ball in 2016, complete with a Donald Trump doll grabbing her from behind. Some people loved the costume for its political edginess, while some in her Instagram comments…er, didn't.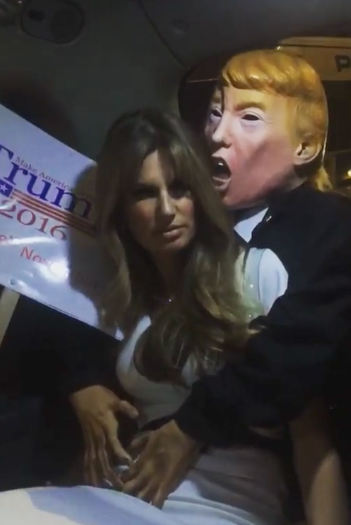 Kim Kardashian as Aaliyah
Remember when Kim Kardashian dressed up as Aaliyah in 2017 and it caused all kinds of backlash? She ended up issuing an apology, saying, 'I saw online that some people thought my costume was in poor taste and I am truly sorry if that offended anyone. When I was creating the costume, I wasn't dressing up as a race or culture but rather as a woman whom I will always admire.'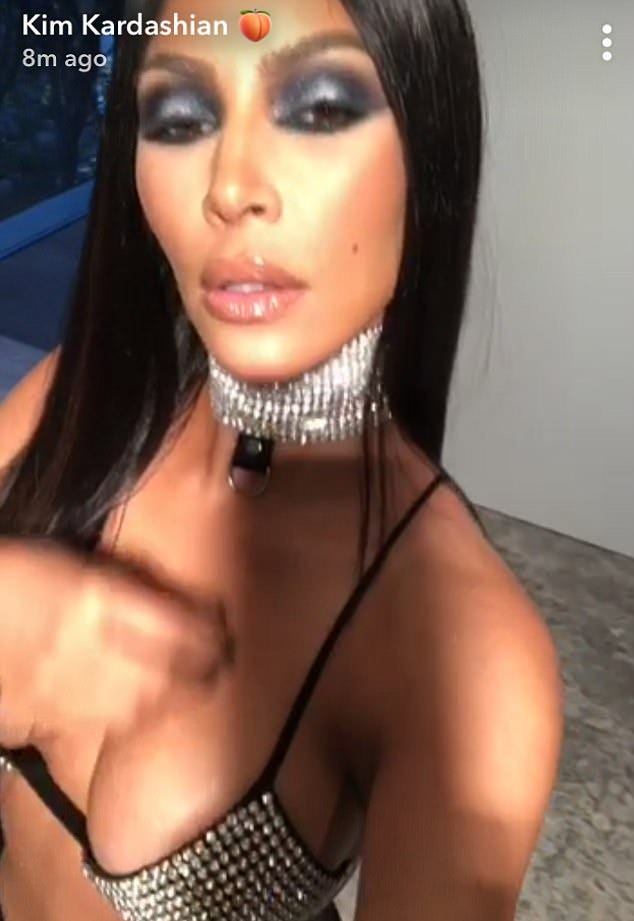 Tia Mowry as a Geisha
Tia Mowry decided to dress as a stereotypical Japanese geisha for her 2013 Halloween party, and people in her Instagram comments weren't thrilled. Although some defended Tia, others wrote things like, 'My race and the races of others are not a costume for a cheesy holiday,' and, 'Please do some research on cultural appropriation. Geisha costumes are not cool, girl.'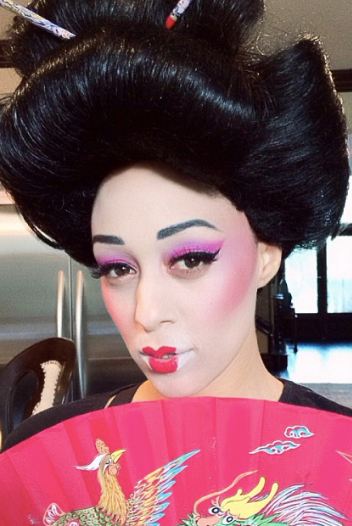 Ashley Tisdale as a Day of the Dead Skull
It seems like people dress up as Day of the Dead sugar skulls every year for Halloween, right? But the thing is, Dia de los Muertos is a Mexican tradition that honors people's dead relatives. To quote one of the commenters on Ashley's pic (which was taken in 2016 for a Halloween party!), 'THERE'S A DIFFERENCE BETWEEN REPRESENTING AND APPROPRIATING A CULTURE.'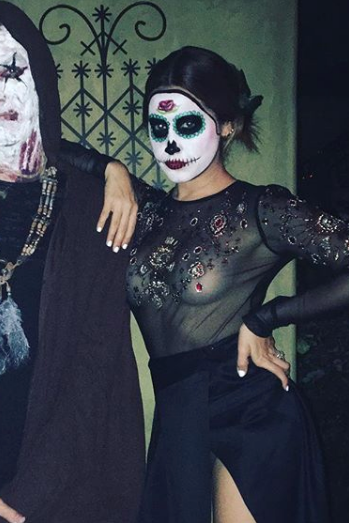 Ellie Goulding as a Native American Chief
Ellie Goulding got blowback for the costume she wore to a Halloween party at the Bacardi Triangle in 2014, which included an elaborate headdress seen in a since-deleted photo she posted to Instagram.
Ashley Benson as Cecil the Lion
Pretty Little Liars star Ashley Benson decided to post this since-deleted photo to Instagram around Halloween 2015, which she called a 'Cecil the Lion costume.' (Reminder: Cecil was a 13-year-old lion whose murder by an American dentist caused national outrage.)
Ashley ended up apologizing, saying, 'Yesterday's post was in poor taste and I absolutely regret all of the hurt that photo caused.'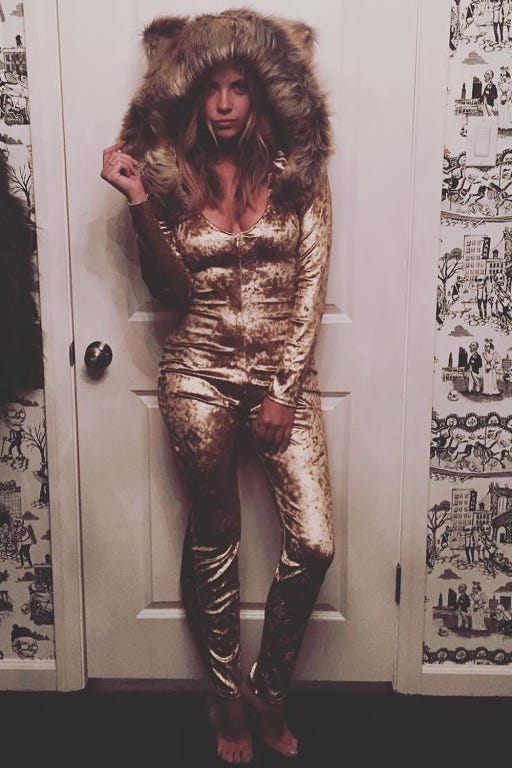 Nicky Hilton as a Native American
Here's Nicky Hilton at the 2015 Casamigos Halloween Party, so you can go ahead and add her name to your list of 'Celebrities Who Still Think It's OK to Dress In Culturally Insensitive Outfits,' sigh.
Scott Disick as a 'Sheik'
Keeping Up with the Kardashian's very own Scott Disick clearly needed a lesson in other people's cultures not being fodder for costumes when he dressed as a 'Sheik' back in 2014. He captioned this photo, 'Happy halloween! We getting Arab money tonight,' while Khloé Kardashian also posted a glimpse of the look, which you can see over here.
Lord Disick actually discussed the negative response to his Halloween party costume on an episode of KUWTK, but he didn't exactly apologize.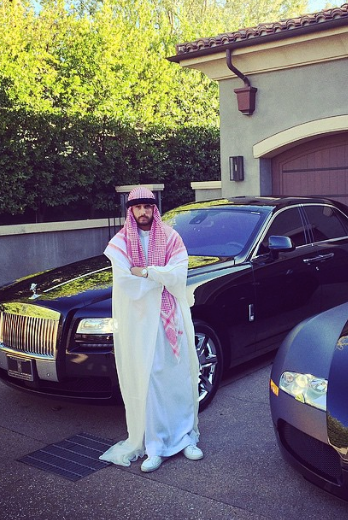 Hilary Duff and Jason Walsh as a 'Pilgrim and Indian'
Absolutely no one was here for Hilary Duff and then-boyfriend Jason Walsh dressing up as a 'Pilgrim and Indian' for the 2016 Casamigos Halloween Party, and Hilary ended up issuing an apology, saying, 'I am SO sorry to people I offended with my costume. It was not properly thought through and I am truly, from the bottom of my [heart emoji] sorry.'
Heidi Klum as the Goddess Kali
Heidi's costumes are usually EVERYTHING, but the Hindu community was understandably offended after she dressed up as the goddess Kali for her annual Halloween party in 2008. In fact, many leaders slammed her for the choice and asked her to apologize, which she never did.
Harry Hamlin as Sid Vicious
Last but definitely not least, Hamlin was technically trying to be Sid Vicious to Lisa Rinna's Nancy Spungen at Casamigos' 2015 party, but he committed too hard to the look by wearing a red T-shirt with a swastika, which Vicious wore in a 1978 mockumentary. Rinna later apologized for the pair on Instagram.
This article originally appeared on Cosmopolitan US
Read more celebs