So logging into Instagram this morning you might be a bit confused as to what exactly is going on between Justin Bieber and Taylor Swift. Two of the world's biggest pop stars seem to be at odds and the rest of the entertainment world is choosing sides faster than you can say, 'Kanye West.'
Okay, so here's a rundown of everything that has happened thus far:
1. Scooter Braun buys Big Machine Records
Basically, Scooter Braun who manages the careers of Justin Bieber, Ariana Grande and Kanye West, has bought Big Machine Records for $330 million. Taylor Swift used to be signed by Big Machine Records, which means that Braun now owns the masters to six of her albums.
Taylor is now signed with Universal's Republic Records so everything after her upcoming album, Lover will be owned by her. She wrote a lengthy Tumblr post, about her plight to get the rights to her own music.
'I learned about Scooter Braun's purchase of my masters as it was announced to the world. All I could think about was the incessant, manipulative bullying I've received at his hands for years…Like when Kim Kardashian orchestrated an illegally recorded snippet of a phone call to be leaked and then Scooter got his two clients together to bully me online about it.'
She lists other instances, including one such as the below incident by Justin Bieber (read the full story on her Tumblr post):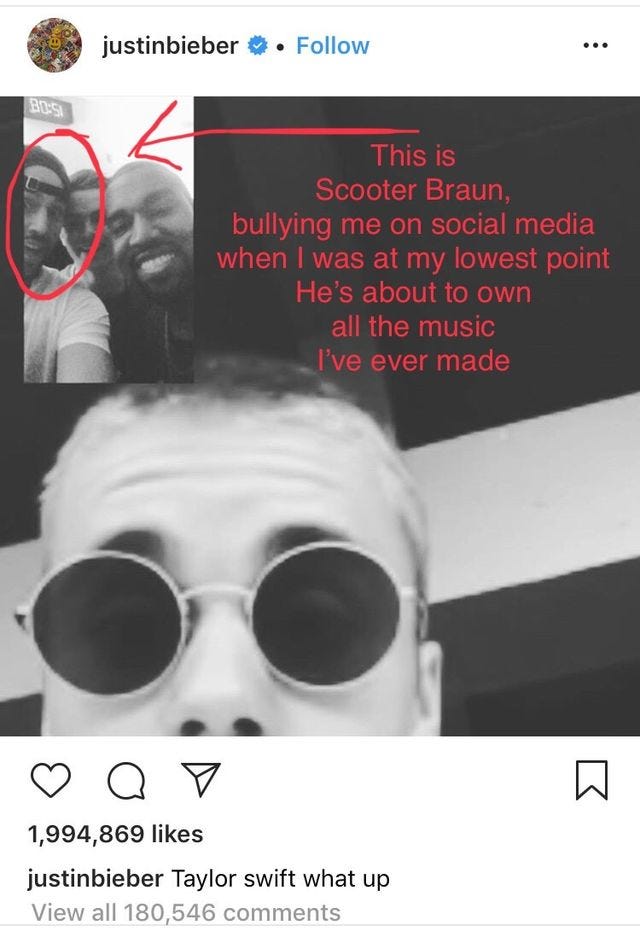 She also wrote, 'Thankfully, I am now signed to a label that believes I should own anything I create. Thankfully, I left my past in Scott's hands and not my future. And hopefully, young artists or kids with musical dreams will read this and learn about how to better protect themselves in a negotiation. You deserve to own the art you make.'
2. Justin Bieber responds to Taylor Swift
The Biebs gave an 'apology' to Taylor Swift on Instagram, by saying that the post was a misguided post by Bieber alone and had nothing to do with Scooter. Justin said that Scooter had always had her back since she let Justin open for him all those years ago. He then accuses Taylor of using her fans and influence to bully Scooter and get people to hate on him.
3. Cara Delevingne has it out with Hailey and Justin Bieber
Justin's wife Hailey (formerly of the Baldwin clan) commented on his post with 'gentleman.' However fellow model and a certified member of Taylor's girl gang, Cara Delevingne responded to Hailey's comment by saying, 'Gentleman?…you must be bored. I wish you spent less time sticking up for men and more time trying to understand women and respecting their valid reactions.'
https://www.instagram.com/p/BzWkYqxFLVt/?utm_source=ig_web_copy_link
4. Scooter Braun's wife airs out her laundry
Yael Cohen Braun, Scooter's wife and the CEO of Fuck Cancer, responded to the allegations with an open letter on her Instagram account. In the post she accused Taylor of having the opportunity to own her masters, and that her father was made aware, and that Scott Borchetta of Big Machine Records notified her of the sale. She also said that Taylor was using her fame to bully Scooter even though she is seen as a role model. And she drew attention to the fact that 'And girl, who are you to talk about bullying? The world has watched you collect and drop friends like wilted flowers.' Yikes!
5. Todrick Hall calls Scooter an 'evil person' and 'homophobic'
Singer, dancer, choreographer Todrick Hall who choreographed and starred in Taylor's latest music video, You Need to Calm Down in a series of tweets accused him of being 'evil person who's only concern is his wealth and feeding his disgusting ego'. He said he's homophobic and notably not a fan of Taylor.
For those asking, I left Scooter Braun a long time ago…I am saddened by this news, but not shocked. He is an evil person who's only concern is his wealth and feeding his disgusting ego. I believe he is homophobic & I know from his own mouth that he is not a Swift fan.

— Todrick Hall (@todrick) June 30, 2019
I truly hope justice is served and that my friend's music will fall into the hands of a better human.

— Todrick Hall (@todrick) June 30, 2019
https://twitter.com/todrick/status/1145484987866783744
6. A manager at Scooter Braun's company accuses Todrick Hall of stealing from fans
In response to Todrick's tweets, Allison Scarinzi, a manager at Scooter Braun's company, replied and said that they dropped Todrick from the record after he stole from fans on his Christmas tour. Which resulted in a back and forth between the two, arguing about who had to pay the crew members on Todrick's tour.
@todrick this is disgusting and defamatory statement. We dropped you after finding out you were stealing from your fans on your Christmas tour. Scooter has been nothing but supportive of all disenfranchised groups. He is against dishonesty. Not those living in their truth.

— Allison K Scarinzi (@AllisonKaye) July 1, 2019
You said you needed that amount of money. When we said we wouldn't give it to you – you stole. If you want to play the screenshot game I've got a bunch from unpaid cast members – though I'm sure they'd be happy to put you on blast themselves. Stop chasing clout and pay your bills

— Allison K Scarinzi (@AllisonKaye) July 1, 2019
Stop taking money from artists that you're not actually working to manage, give me my hundreds of thousands of dollars back for services I never received and I would be able to pay them more quickly, and just for the record they have been paid now, no thanks to Scooter!

— Todrick Hall (@todrick) July 1, 2019
7. Todrick Hall then posted receipts
He posted a screenshot of his resignation email to Scooter, thus proving that he wasn't fired by the company.
Welp, I guess they let me go…also I'd like to say this was TWO YEARS after I did the Christmas tour and supposedly stole from my fans 🙄 pic.twitter.com/CEzL7Gluvh

— Todrick Hall (@todrick) July 1, 2019
8. The former President of Oprah's network called Taylor a 'liar'
Eric Logan, who until late last year was the president of Oprah's OWN network and also sits on the board of Big Machine Records, released a since-deleted series of tweets and says, 'your power is fading, your shine is dull and this what bullies do, they lash out.'
9. Holy cow. Now @eriklogan_elo, who was the president of the Oprah Winfrey Network for seven years (he just left late last year), has posted this open letter to Taylor

He calls her a liar among other things

Erik is on the board of Big Machine Records, Taylor's former record co pic.twitter.com/JnRLt2JsPY

— Yashar Ali ? (@yashar) July 1, 2019
9. Demi Lovato defends Scooter against Todrick's accusations 
Demi Lovato who recently signed with Scooter Braun's company defended him in her Instagram Story, 'there's enough hate in the world.'
#DemiLovato writes another post on her Instagram story in defense of Scooter Braun:

"Y'all can come after me all you want but I'm always gonna stay loyal to my team." pic.twitter.com/PtEzQX7Lmz

— Pop Crave (@PopCrave) July 1, 2019
She then commented on Todrick Hall's claims of Scooter's homophobia saying that it is not true:
#DemiLovato defends #ScooterBraun from #TodrickHall's claims that he's homophobic:

"Idk you or anything and this isn't hate, but making claims that someone is homophobic is really serious. Please don't spread information that isnt true because I can guarantee you Scooter isn't." pic.twitter.com/R7dfn3HKxD

— Pop Crave (@PopCrave) July 1, 2019
Todrick then tweeted:
Dear Demi, first off…why did you delete your tweet? Secondly, I love you and listen to your music religiously, but thirdly, you cannot compare your experience to mine, especially with someone I was with for six years and you've only just signed with.

— Todrick Hall (@todrick) July 1, 2019
10. Singer Halsey tweeted her support for Taylor
Taylor then retweeted Halsey.
🦋 @taylorswift13 pic.twitter.com/1iI2tCr8my

— h (@halsey) June 30, 2019
11. Scott Borchetta claims that Taylor had an option to buy her masters back
The President and CEO of Big Machine Records, Scott Borchetta tweeted a response to Taylor's accusations saying that she was aware of the sale and had the options to buy back her masters.
In regard to a post earlier today from Taylor, it's time to set some things straight. https://t.co/OqGI4GoN3P

— Scott Borchetta (@scottborchetta) July 1, 2019
This is all very messy, can't wait to see what happens next.
Read More Celebs.