Sofia Richie just unfollowed Kourtney Kardashian on Instagram.
Kourtney never followed Sofia in the first place.
Another day, another celebrity sneakily doing some sort of shady shit on Instagram, amirite? This time, it isn't a particularly spicy comment or a questionable Like that hints at drama. Nope! Today, we are treated to a classic case of a celeb hitting the unfollow button, courtesy of Sofia Richie. Who did she unfollow? Oh, none other than Kourtney Kardashian…who happens to be the ex-girlfriend of Scott Disick, Sofia's current boyfriend. The tea is scalding, darlings!
That being said, you're probably wondering why Sofia unfollowed Kourtney. I'm sorry to break it to you, but no one really knows that information. Sofia is currently following more than 400 accounts, so it's possible she wanted to give her feed a lil ~cleanse~ by unfollowing Kourtney. It's also possible that Sofia was tired of seeing her boyfriend's ex-girlfriend posting all the time? That's how I'd feel, TBH. Or the pettier reason: Sofia probably unfollowed Kourtney because Kourtney never followed her back. The possibilities are endless, guys.
But anyway, here are the receipts: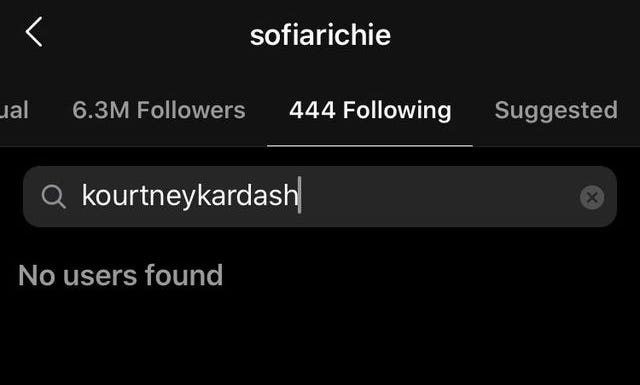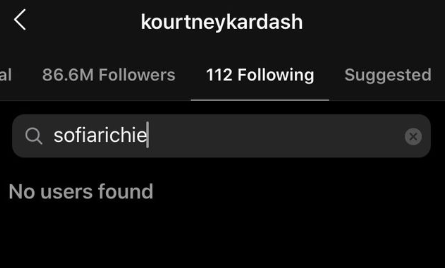 And since you're curious, Sofia is still following Scott on the 'gram (despite Scott never following her), meaning there's probably no drama between them right now.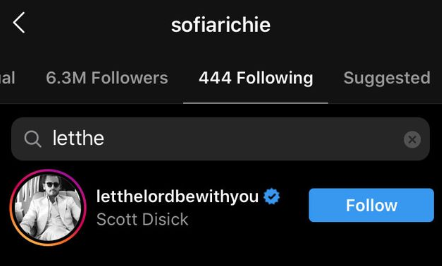 Sofia removing Kourtney from her follow list comes just a day after she revealed to Entertainment Tonight that she won't be on the upcoming season of Keeping Up With the Kardashians, where she used to share some v awkward plotlines with Kourt and Scott. 'I want to get into acting!' she explained. 'I feel like for a while, I kind of held back on things because I was afraid of failure, but 2020 is [the year of] no fear! I'm gonna be doing acting stuff really soon,' adding that 'great things are happening and I'm really excited about it.'
Welp…let's see if any drama ensues!
This post originally appeared on Cosmopolitan US
Read more celebs
Like this article? Sign up to our newsletter to get more articles like this delivered straight to your inbox.