It's easy to pass judgment on an Oscars speech from the comfort of your couch—and maybe a little unfair too. I can't imagine how exciting and nerve-racking it must be to win Hollywood's biggest award. And that's not because I haven't tried: For those of us in the biz, cooing 'I'd like to thank the Academy' into our bathroom mirrors is an essential part of our nighttime routines. It's kind of like eye cream, but for your dreams.
Last night's telecast featured several well-established speech trends. One was 'genuinely surprised and completely off-the-cuff.' Take best actress winner Olivia Coleman, who got extra points for making adorable fart noises after the teleprompter told her to wrap it up.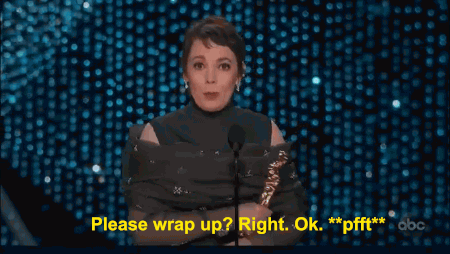 Others went with 'gushing and slightly self-indulgent.' As Lady Gaga clutched her statuette for best original song, she talked about all her hard work and said, 'It's not about winning.' Oh. Okay, sis.
But the speeches that spoke most directly to my heart this year were by black winners who came PREPARED TO WIN. First, there was Regina King, who took home best supporting actress for If Beale Street Could Talk.
While I'm no body-language expert, let's look at the nominees, seconds before the award was announced. Amy Adams—who, be real, has been snubbed by the Academy too many times—seems gracious and sweet. She's giving us her best, 'It's an honor just to be nominated.' Marina De Tavira is poised but with longing in her eyes. Emma 'I still can't believe I already have one!' Stone and Rachel Weisz seem genuinely excited to learn the results, no matter who wins. Regina King, on the other hand, is an entire MOOD:
.@ReginaKing wins Actress In A Supporting Role and @ChrisEvans also wins Best Supporting Gentleman. #Oscars pic.twitter.com/6acRJUxuhK

— Sky Cinema (@SkyCinemaUK) February 25, 2019
She's pure confidence. Unbothered. Ready. Her lean looks downright comfortable! After sweeping this awards season (and rightly so), it's no surprise she walked away with the biggest prize. But there was something truly beautiful about watching a talented, confident, poised black woman glide proudly to the stage to accept an award she knew she had earned.
Then Ruth E. Carter became the first black woman to win best costume design, for Black Panther, and she actually said, 'This was a long time coming.' YES!! What a way to start a speech! She did not waste time on faux-shock or tears. Instead she got right to it, thanking Spike Lee for launching her career (with 1988's School Daze), and giving herself props for elevating Black Panther from Marvel hero to African King. She thanked director Ryan Coogler and her mom. She drove home the importance of telling one's own story. She even threw in a Vibranium joke. But the best part, in my opinion, was her typed notecards, which were not the sterile white SAT-prep kind but classy black matte. The. Cards. Matched. The. Dress. This is what we call a 'lewk.'
And it didn't stop there. Next up was Hannah Beachler, the first African-American woman to win best production design, also for Black Panther (yeah, it's wild that in 2019 we are still having 'firsts' in any Oscar category). Despite some noise I saw on Twitter, I found it endearing that Ms. Beachler read her speech off her phone. That she had to scroll first to find it struck the perfect balance between, 'I wrote something just in case' and 'I'm not so overconfident that I had it cued up and ready to go.' I feel that on a spiritual level.
And yeah, I also appreciated that she asked her co-winner, Black Panther's set decorator Jay Hart, to hold her statuette while she held her space up on that stage.
First African American nominated in this category – and SHE won. Hannah Beachler #blackpanther #Oscars #Oscars2019 Ruth Carter pic.twitter.com/FExem2i1Dn

— Dorothy J. Gentry (@DorothyJGentry) February 25, 2019
Finally, after three decades of nominations and snubs, hells yea Spike Lee came to the podium with PAGES.
Like many viewers, I was confused about why he got bleeped at the beginning, but the internet tells me it's because he started with, 'Do not turn that muthafucking clock on.' Fair. Reclaim your time, sir.
Watch Spike Lee accept his first ever #Oscar pic.twitter.com/ofs9mfoXA5

— The A.V. Club (@TheAVClub) February 25, 2019
When it comes to accepting accolades, sure, humility goes a long way. But creative people who inhabit marginalized identities are far too familiar with being passed over again and again, only to see privilege and mediocrity rewarded. I'm not one to quote TV villains, but on this point, I agree with Poppa Pope, i.e., Olivia's dad Rowan on Scandal: 'You have to be what?…Twice as good as them to get half of what they have.' So when you've worked your ass off and your moment finally arrives, why not come correct?
Especially on a night when all those history-making wins did culminate with one massive letdown: The best picture winner, Green Book, is a classic white savior film about a white dude who realizes the N-word is bad after spending two months working for a black man (the movie's star, Viggo Mortenson, still has to be reminded). It's a feel-good narrative for and by white people that doesn't actually address the structure of racism. (Mahershala Ali, who won best supporting actor for playing black musician Don Shirley, was the best part of what I hope will be an otherwise forgettable film). Meanwhile Beale Street, the gorgeous and sadly timeless story of a black family trying to navigate the wrongful arrest of their son, was almost entirely shut out.
Samuel L. Jackson's reaction to Green Book winning Best Screenplay is all of our reactions. pic.twitter.com/p8bI70JhBd

— Spencer Althouse (@SpencerAlthouse) February 25, 2019
And that's precisely why seeing these incredible black artists step into their moment with confidence spoke to me. There are too many people whose work was never or will never be recognized by the establishment. That doesn't keep us from striving for or achieving excellence.
So congrats to all of this year's Oscar winners but especially to those who reminded us that if you stay ready, you don't have to get ready. That's the energy I'm trying to keep for 2019.
This article originally appeared on Cosmopolitan US
Read more celebs