Kylie Jenner is a billionaire with an endless supply of fancy stuff and inexplicably tiny greyhounds, and yes: she lives in a mansion. But because of this thing called privacy, Kylie doesn't show off her home in Hidden Hills, California, to fans all that often. Thanks to the fine art of sleuthing and one seriously amazing Architectural Digest cover shoot, however, we've put together a pretty solid room-by-room tour of Kylie's house. Warning, though—before we jump in, please know that reading this might leave you all: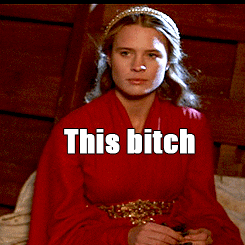 With a side of: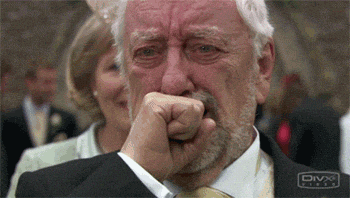 Okay, let's start off with…
Kylie's Entranceway
Thanks to Travis Scott doing the absolute most, we know that Kylie has a pretty spectacular foyer. Behold, exactly what she sees upon opening her front door:
Here's another view from Valentine's Day, featuring Stormi:
As you can see, the room extends to the second floor via a gorgeous staircase, so there's enough room to fit a massive Christmas tree:
Stormi's Room
Kylie doesn't share many videos and pictures of Stormi's private space for obvious reasons (if you need me to spell it out for you, the internet is full of creeps), but from what we have seen, it looks super cozy:
Kylie's Driveway and Garage
Meanwhile, here's Kylie's garage—when I say 'garage,' I mean this giant bougie, um, parking lot where she keeps all her cars:
Plus, here's the pathway up to her door—once again decked out thanks to Travis's Bachelor-level passion for red roses.
Kylie's Living Room:
Thanks to Kylie being on the cover of Architectural Digest, we know her living room is basically the fanciest thing ever: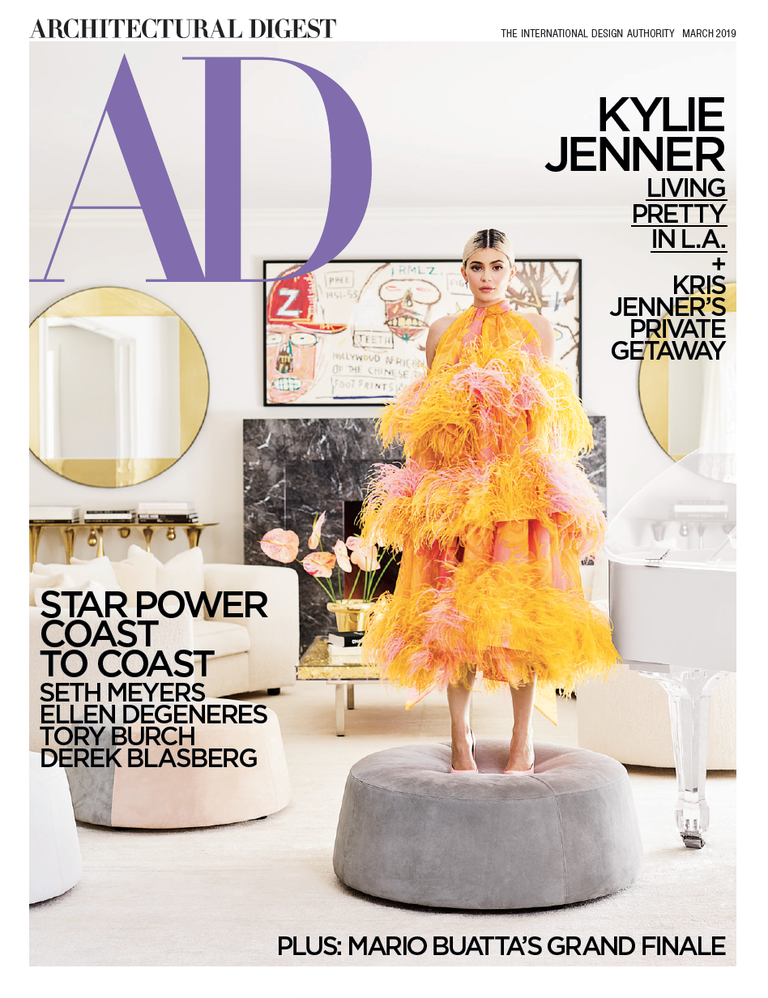 Meanwhile, IDEK what room this is but I'm dead:
Kylie's Kitchen
Please file this picture under 'that feeling when your kitchen is quite literally too fancy to prepare meals in.'
But for what it's worth, Kylie does cook. In fact, she used to have an entire video series called Cooking with Kylie SO DON'T GET IT TWISTED.
Speaking of food….brb while I sadly microwave myself a comfort tortilla to get through rest of this tour.
Kylie's Makeup Room
I feel like I need to warn you that what you're about to witness may cause you to spiral into fits of jealousy to the point where you're quite literally unwell. That said, here, it's Kylie's glam room.
Kylie's Hallway
You: Did you really deep-dive through months of Instagram content in order to find evidence of Kylie's fancy hallway?
Me, hours later:
Kylie's Home Theater
Here's the thing: when you're famous, you don't just go to the movies like a normal person. The movies freakin' come to you. And in the case of Kylie, they come to her massive home theatre:
Kylie's Dining Room
We also saw this room sitting pretty in Architectural Digest: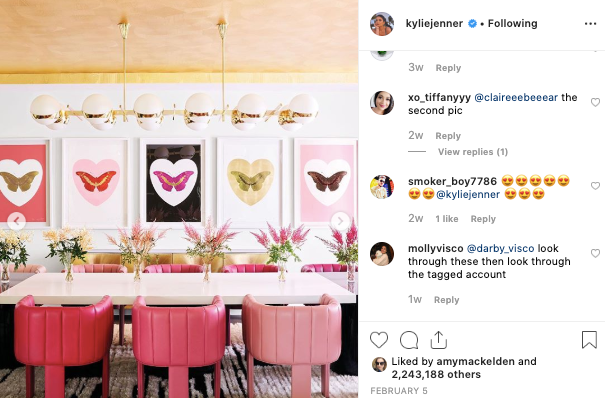 But she had been teasing it for a while:
Oh, and it also happens to be the scene of the crime location of her infamous Handmaid's Tale-themed party: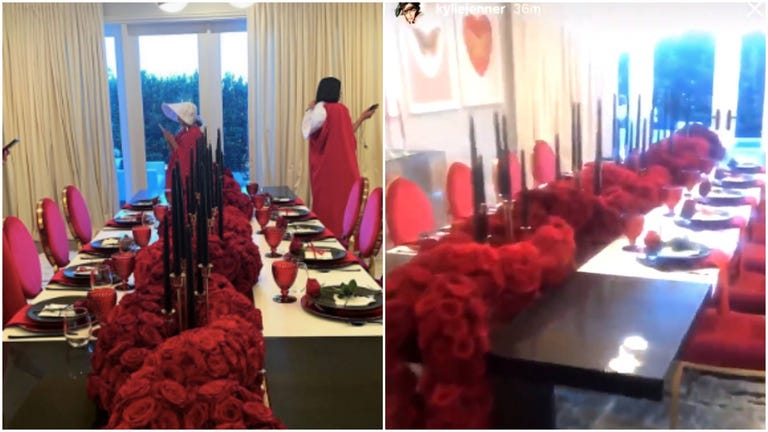 Kylie's Basketball Court
What, you don't have a private basketball court at your house? How awkward for you.
Kylie's Bedroom
All I can say is 10/10 would sleep here:
Also, take a closer look at that romantic sign 'cause it's what Kylie gazes at every night:
Gonna assume this is her headboard with a very cute guest appearance from Stormi:
Kylie's Pool(s)
Because one pool simply isn't enough, hit play to see Kylie's multiple man-made bodies of water in all their glory:
Kylie's Purse Closet
It is barely an exaggeration to say my bedroom is the size of this closet. And Kylie seems pretty obsessed with it judging from how many mirror selfies she posts:
And she uploaded a tour of the closet on YouTube for everyone to FOMO over:
Kylie's Bathroom
So Kylie appears to have multiple bathrooms, which is hardly a shock. First, there's the one seen in this video she filmed with Vogue:
But she's also taken a ton of pictures in THIS bathroom:
Kylie's Closet
Kylie's been dealing with some controversy over her shoe collection(because of course), which we can all agree is, um, impressive.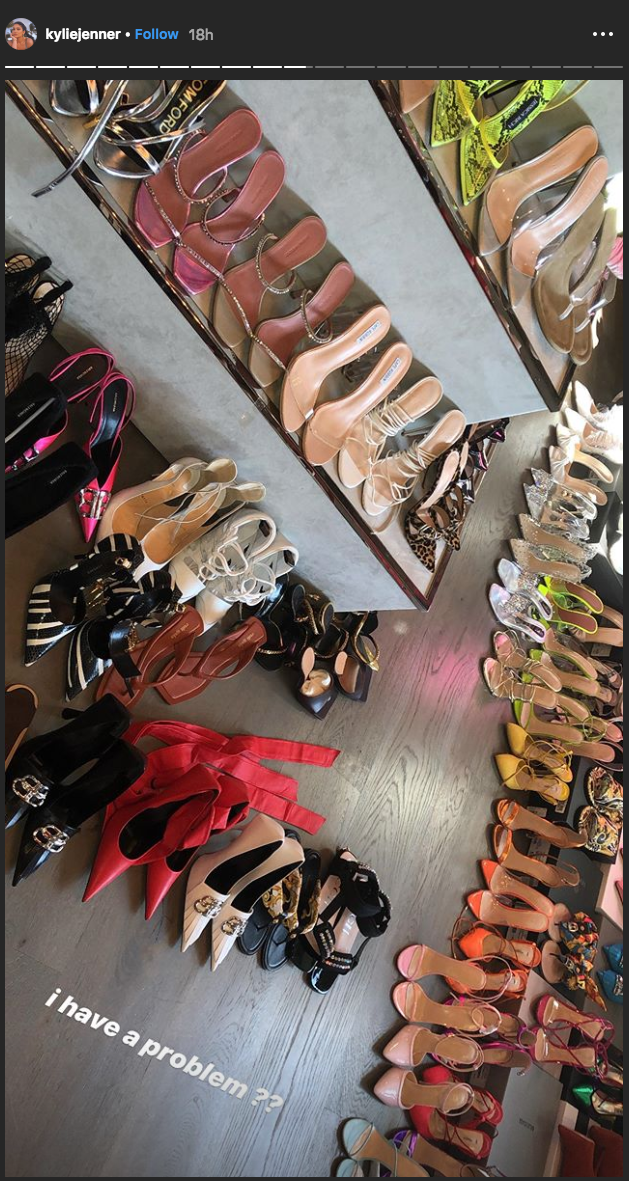 Meanwhile, the rest of her closet looks like this: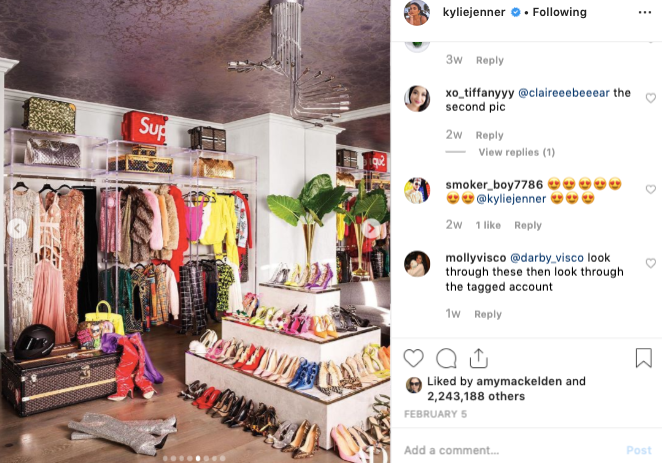 Annnnd that's about it. I'll leave you with this important gif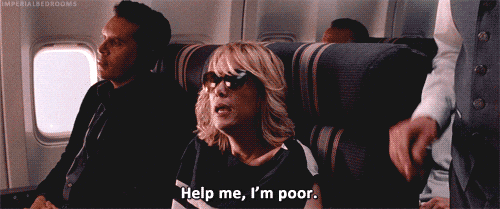 This post originally appeared on COSMO US
Read more Celebs