On Tuesday, in a very casual tweet, Kris Jenner confirmed that she is dropping a Kris Cosmetics collection on – yep, you guessed it – Mother's Day. (For all you people out there who STILL don't know when that is, it's this Sunday, May 13!) This news comes just a couple of weeks after Kylie Jenner and Kourtney Kardashian debuted their KOURT X KYLIE makeup collab with a super-sexy photoshoot.
Hey guys.. it's me! and oh, my collection drops on Mother's Day. pic.twitter.com/OuUTqfDLb9

— KYLIE COSMETICS (@kyliecosmetics) May 8, 2018
But back to Kris! In the above video announcing the line, she pulls up to a studio in a Rolls Royce (with the licence plate reading 'FABUL❤S,' no less), walks up to a door with Kylie's name on it and crosses it out with a red sharpie (way harsh, mom!), walks up to an ornate white chair, takes off her black shades, and winks.
Possibly even better than the video is the promo pic of her looking very cold (but very fashionable, of course) while wrapped in an extravagant coat with black sunglasses and bright red lips.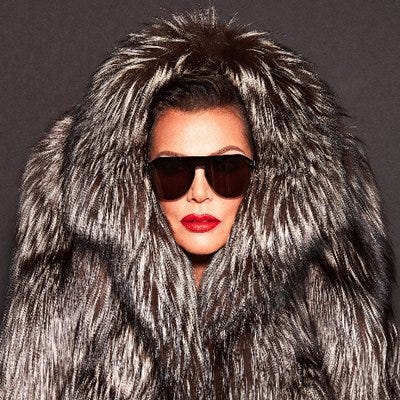 She even hijacked the @KylieCosmetics Twitter and Instagram handles and changed them to @KrisCosmetics. SHADY.
Kylie teased a sneak peek of the collab on her Insta stories with the caption 'mom's music selection', as she filmed a 12-shade eye-shadow palette with colours like 'Paybacks a Bitch', 'I Love Myself' and 'I'm Watching You'. If the past Kylie Cosmetics launches are any indication, the collection will likely offer liquid lipsticks and highlighters as well, but what I really want to know is if I can transform into Kris herself by using her makeup.
Oh, and this also comes after reports that Kim Kardashian filed a trademark for a lingerie line, in case you weren't already konvinced that the Kardashian-Jenner klan is taking over the beauty and fashion business sphere. Not bad for a family with no talent!
This post was originally published on Cosmopolitan.com
Read more celebs