Khloé Kardashian addressed an Instagram user's speculation of if she'll be getting back together with her ex-boyfriend, Tristan Thompson.
Her answer? Not a 'yes,' but not a 'no' either. Iiiiiinteresting…
Admit it: You're just a teensy bit curious to know if Khloé Kardashian will get back together with her ex, Tristan Thompson. Yes, Tristan's extensive past with cheating (and not to mention, the whole Jordyn Woods drama) is totally unforgivable but like…reconciliation seems like it's always on the table for these two, right? Welp, maybe not in the way you think, because Khloé set the record straight on where her relationship with Tristan stands. Kinda.
On Instagram, Koko posted the CUTEST picture of her with her adorable baby girl, True Thompson, in matching pyjama sets. 'The only thing I need you to remember is how much your daddy and I love you!' she captioned the image.
And because Tristan is…well, Tristan, he commented a series of heart emojis on Khloé's picture. Naturally, this caused one curious Instagram user to question if Tristan's comment meant that he's going to be getting back together with Khloé.
'It means her parents love her beyond measure,' Khloé replied.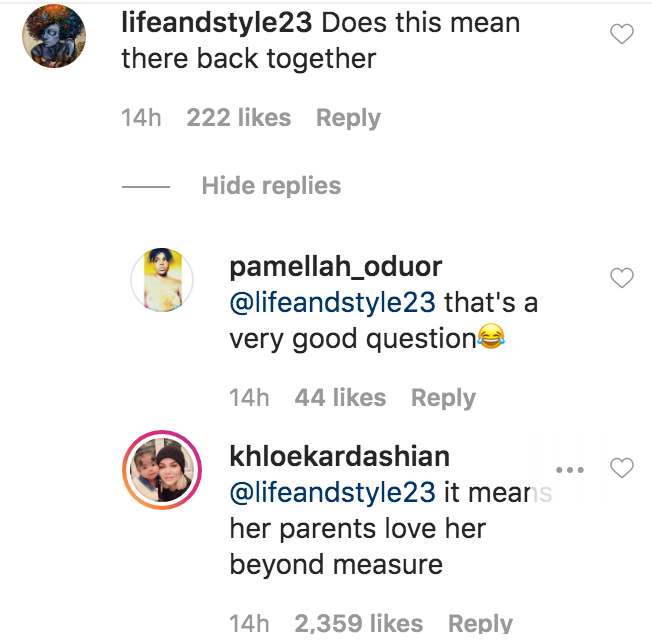 Though multiple reports claim that Tristan is trying to win Khloé back, she doesn't seem ready to jump right in with that just yet. Khloe's main concern is just making sure that she and Tristan do a killer job at the co-parenting thing.
'Right now, the most I can handle is a co-parenting relationship….Tristan wants more than that.' Khloé said on an episode of Keeping Up With the Kardashians. 'There's really nothing romantic between Tristan and I…We're slowly moving into the right direction of being friends as well as excellent co-parents.'
This article originally appeared on Cosmopolitan US
Read more celeb news
Like this article? Sign up to our newsletter to get more articles like this delivered straight to your inbox.