Kanye West deleted his Instagram account on 5 March 2017 and has remained as under-the-radar as Kanye West can possibly be until now, when his long-dead @kanyewest handle resurfaced on Valentine's Day.
His first post was an image of a blank white card with 'Happy Valentine's Day Babe' hand-written on it, and while he did not tag his famous wife Kim Kardashian in the post, it's safe to assume she's his valentine this year.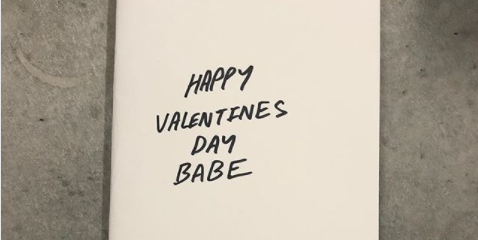 Following the card, Kanye posted several photos of famous celebrity couples, some of whom are still together while others quite famously fell apart.
He has Michelle Obama and Barack Obama, who are still together:
https://instagram.com/p/BfMNCToB_p8/?utm_source=ig_embed
Kate Moss and Johnny Depp (who have long since broken up):
https://instagram.com/p/BfMOueIhBfo/?utm_source=ig_embed
Aaliyah and Tupac (super-broken up):
https://instagram.com/p/BfMPl7mB_qF/?utm_source=ig_embed
And Pamela Anderson and Kid Rock (who divorced in 2006):
https://instagram.com/p/BfMSIcZBQ6M/?utm_source=ig_embed
Yeah, there's a lot going on here. Other couples included are Pamela Anderson and Tommy Lee (yes, Pamela is there twice), Gwyneth Paltrow and Brad Pitt (super not together any more), Cindy Crawford and Richard Gere (were married for four years and are now essentially strangers), and Madonna and Sean Penn (Madonna famously accused Sean Penn of domestic violence), which makes the Obamas the only lasting couple he has so far posted.
Maybe Kanye is making a weird anti-Valentine statement? Maybe he's trying to say that his love for Kim is stronger than what these celebrities had for each other. Maybe he's just going to bust out with a new album that references the Obamas and three decades of notorious celebrity break-ups! As always with Kanye, the world is a step behind his beautiful, dark, twisted mind.
Happy Valentine's Day, Kim and Kanye. I think.
This article originally appeared on Cosmopolitan US.
Read more entertainment