Last night, you were probably minding your business and scrolling aimlessly through your phone when a huge bomb dropped about the biggest night in music—the Grammy Awards. Previously held in high regard for its keen ability to recognize talent and award those who have made strides in the music industry, the Recording Academy is now facing serious allegations of discrimination, sexual assault, corruption, and favouritism ahead of the 2020 Grammys on Sunday.
It all started when former Recording Academy CEO Deborah Dugan was removed from her position last Thursday—with only 10 days until Grammys showtime—with little explanation. Initial reports claimed that Dugan was placed on leave after an allegation of 'misconduct by a senior leader at the organization' was filed, which sounds rather…vague. But then Dugan's attorney, Bryan Freedman, let it be known that there is apparently much more to Dugan's sudden removal than meets the eye.
'What has been reported is not nearly the story that needs to be told. When our ability to speak is not restrained by a 28-page contract and legal threats, we will expose what happens when you 'step up' at the Recording Academy, a public nonprofit,' Bryan said in a passionate statement to the Associated Press on Friday.
Today, Dugan's story is finally getting out, and it is a doozy. Please allow me to break down these brow-raising accusations in excruciating detail so you can figure out if you still want to watch the award ceremony come Sunday night.
Deborah Dugan Said She Was Sexually Harassed and Put on 'Administrative Leave' to Cover It Up
On Thursday, it was announced that Dugan was 'stepping down' as the Recording Academy's CEO. Now, she's claiming that she was sexually harassed by Joel Katz—a key Recording Academy executive—and was placed on administrative leave because she threatened to bring her accusations to light.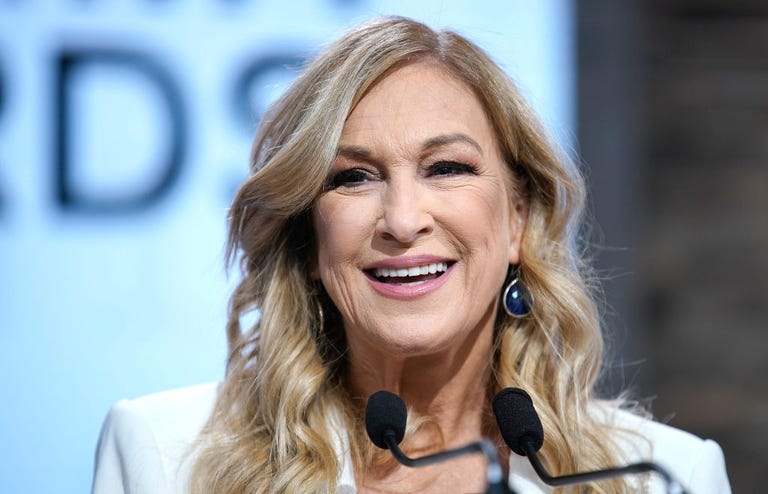 Dugan filed a 46-page discrimination complaint with the Equal Employment Opportunity Commission (EEOC), saying her ousting stemmed from an e-mail she sent on December 22, 2019, to the Recording Academy's head of human resources. The e-mail detailed the alleged harassment she experienced from Katz.
According to Dugan's complaint, Katz came on to her while they were having a one-on-one dinner in May 2019 during a three-day Academy meeting in California. In addition to complimenting her appearance multiple times, Dugan said Joel frequently called her 'baby' and tried to kiss her. Katz reportedly told her that 'travelling to my many homes could be something nice for us to share.'
Katz's attorney, Howard Weitzman, denied Dugan's sexual misconduct claims in a statement to Rolling Stone, which reads:
'Ms. Dugan's allegations of harassment and her description of a dinner at the steakhouse in the Ritz Carlton, Laguna Niguel, are false and Mr. Katz categorically and emphatically denies her version of that evening.

'This dinner meeting was two-and-half months before Ms. Dugan started her job. Mr. Katz believed they had a productive and professional meeting in a restaurant where a number of members of the Board of Trustees of the Academy, and others, were dining.

'Ms. Dugan's claims are made, for the first time, seven months after this dinner took place. Mr. Katz will cooperate in any and all investigations or lawsuits by telling the absolute and whole truth. Hopefully Ms. Dugan will do the same.'
Former Recording Academy CEO Neil Portnow Allegedly Raped an Artist, According to Dugan's Complaint
Before Dugan began her role as the Recording Academy's CEO, she said she was ushered into a conference room with a 'foreign recording artist' and Academy member. Dugan said, in that room, the artist revealed she was raped by former Recording Academy CEO Neil Portnow after a show at New York City's Carnegie Hall.
Although the artist chose to remain unnamed, 'a psychiatrist has confirmed that the sexual encounter between her and Mr Portnow was likely not consensual,' according to the artist's attorney.
Dugan believed that some members of the Academy knew about the rape allegations, while others didn't "despite the fact that they were supposed to be voting the following day on whether to give Mr Portnow a bonus for his past work for the Academy,' according to her complaint. 'Ms Dugan quickly advised that the vote on a bonus could not go forward until the full Board was told of the rape allegation.'
The timing of this was rather suspect, considering Dugan was approached by the Board and asked to hire Neil as a consultant for $750,000. She refused. Neil has not yet responded to the allegations against him, but an anonymous 'major label CEO' told Variety, 'It was a well-known fact that Joel Katz protected Neil Portnow for many years.'
Dugan Said the Grammys Voting Process Is Allegedly Rampant With Corruption and Favouritism
Another bombshell revelation from Dugan is that the Grammy nominations process is allegedly in the hands of the Academy's Board of Trustees, for the most part. Her complaint alleges 'egregious conflicts of interest, improper self-dealing by Board members and voting irregularities with respect to nominations for Grammy Awards, all made possible by the 'boys' club' mentality and approach to governance at the Academy.' In basic terms, she's claimed that the Board of Trustees controls a big part of who is nominated, but because they operate in their own self-interest, the nominations tend to be in their favour.
Board members apparently often represent artists who are being considered for nominations, which complicates the process. The complaint also brings up a specific instance when an unnamed artist who ranked toward the bottom of the list of potential nominees for Song of the Year 2019 actually sat in with the nomination committee and had a Board member represent them. This unnamed artist was able to secure a nomination in the category even though they were a long shot, over Ariana Grande and Ed Sheeran.
We'll update this story as we hear more ahead of the 2020 Grammys.
This article originally appeared on Cosmopolitan US