Meghan Markle and Prince Harry are officially married, and now it's time to PARTY! Here's everything that's going down at the receptions. Around 600 guests attended the royal lunch reception hosted by Queen Elizabeth II at St George's Hall at Windsor Castle. They feasted, and laughed, and cried. After that, Prince Charles is hosting a smaller sit-down dinner for 200 guests at Frogmore House on the estate grounds.
Let's dive right into what we know so far!
The most important thing about the reception!? THE CAKE! DUH!
The wedding cake is to be served at the Reception. It was designed by Claire Ptak and features elderflower syrup made at The Queen's residence in Sandringham from the estate's own elderflower trees, as well as a light sponge cake uniquely formulated for the couple. #royalwedding pic.twitter.com/kt5lE4tEn9

— Kensington Palace (@KensingtonRoyal) May 19, 2018
I mean… I'm sure it's mostly gone by now, but it was beyond glorious while it lasted.
Okay, now on to the less impressive stuff – like speeches from royals and performances by icons.
People reports that Prince Charles gave a heartfelt speech that made Harry very emotional. In it, the Prince of Wales commented on 'how proud' he was of the man his son had 'grown into'.
'He ended it calling him, "My darling old Harry, I'm so happy for you," which was very sweet,' and added, 'how he's really happy for them both'.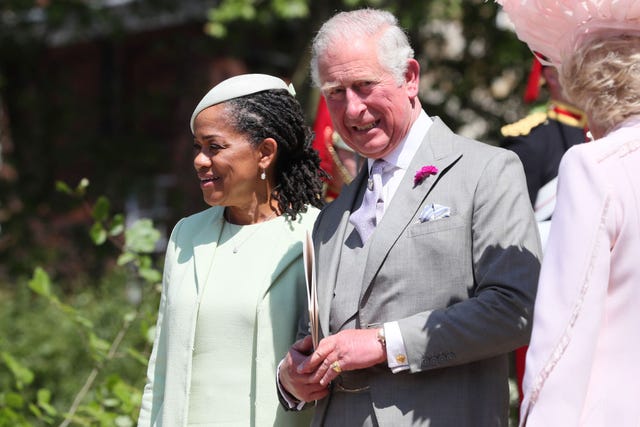 Prince Harry also gave a speech, where 'he did all the "Thank yous",' before getting lots of cheers by saying, 'my wife and I.' MY WIFE AND I! Swoon!
Elton John performed at the lunchtime reception, with Kensington Palace saying that the iconic showman 'performed for the newly married couple in recognition of the close connection he has with Prince Harry and his family.'
This post was originally published on Cosmopolitan.com
Read more Royal Wedding