OMG. Hailey Baldwin and Justin Bieber are reportedly engaged, and if that curve ball hit you like a pie in the face, here's a definitive timeline of Justin Bieber and Hailey Baldwin's relationship, which might give you a bit of an idea where the proposal came from.
Here's a definitive timeline of Justin Bieber and Hailey Baldwin's relationship:
2009: Justin Bieber and Hailey Baldwin meet for the first time, after her dad [actor Stephen Baldwin] introduces them. The whole moment was caught on Vine (RIP), which doesn't exist any more, but Justin retweeted the video in 2016 with the caption, 'Haha. Amazing.'
February 2011: Hailey attends the premiere of Justin's Never Say Never at the Regal E-Walk 13 in Times Square, New York City. The singer confirms his relationship with Selena Gomez the same month, at the Vanity Fair Oscar Party.
September 2011: Hailey shows her support for Justin and Selena's relationship with a tweet which reads, 'I don't care what anyone says but Justin Bieber and Selena Gomez together is the definition of a teenage dream! #word.'
November 2014: Photos start to circulate among fans of Hailey and Justin at Hillsong Church together, along with Kendall Jenner.
Justin Bieber, Kendall Jenner & Hailey Baldwin Attend Hillsong Church NYC – http://t.co/BL1ADmJ70z pic.twitter.com/uR1CSrkBBt

— Justin Bieber Zone (@JustBieberZONE) November 10, 2014
December 8, 2014: Hailey denies she and Justin are romantically involved, after the rumour mill suggests they're getting cosy. She tells E! News in a video interview, 'I've known [Justin Bieber] since I was so young – since I was, like, 13 – and we've just been good friends over the years. We've just stayed close and there's nothing more to it than that.'
December 15, 2014: Justin also denies the rumours with a selfie on Instagram that is captioned: 'People are crazy. I'm super-single and this is my good friend you would know otherwise [sic].'
December 27, 2014: But wait! The pair is spotted having dinner at Mr. Chow and heading back to his, and then pictured having breakfast together the next morning! Is this a thing? Hailey says no, sharing a tweet asking people to 'quit the stories'.
glad I got such a good night sleep last night, at MY own home, alone. Quit it with the stories!

— Hailey Baldwin (@haileybaldwin) December 27, 2014
January 2015: Justin and Hailey bring in the New Year together, and share a video from the party on Instagram.
January 23, 2015: Kendall Jenner shares a pic from a Clippers game on Instagram, in which Justin and Hailey look preeeetty close as they share a cheek-to-cheek kiss.
July 2015: The pair get matching 'G' tattoos to honour a girl at their church, Georgia, who suffers from lissencephaly.
December 2015: While Selena and Justin's relationship is making headlines for being on again and video footage of him serenading her in a bar does the rounds, Hailey shares a photo on Instagram wearing his sweatpants. Hollywood Life reports he commented on the pic with 'Gimme back my sweats, dick,' to which Hailey replied, 'No, sorry they look better on me.'
January 2016: The pair bring in the New Year together (again), with a trip to Anguilla with Justin's family. Both of them chronicled the trip on Instagram, where they went Instagram official with a kiss.
February 2016: Hailey insists it's something casual, telling E!, 'He's about to go on tour. Relationships at this age are already complicated, but I don't really like to talk about it because it's between me and him.'
August 2016: Woah, woah, woah. Justin unfollows Hailey on Instagram and is photographed with Sofia Richie, whom he also goes Instagram official with, which causes a lot of drama with his on/off beau Selena Gomez. Selena writes, 'If you can't handle the hate then stop posting pictures of your girlfriend, lol – it should be special between you two only. Don't be mad at your fans. They love you and supported you before anyone ever did.'
August 2016 – April 2018: Things go quiet between Justin and Hailey, as he continues things with Selena Gomez. They unfollow each other on social media, don't hang out with mutual friends together, and weren't pictured in church at the same time.
Jelena ended their most recent relationship attempt in March 2018.
May 2018: Justin and Hailey are in touch again. Hooray!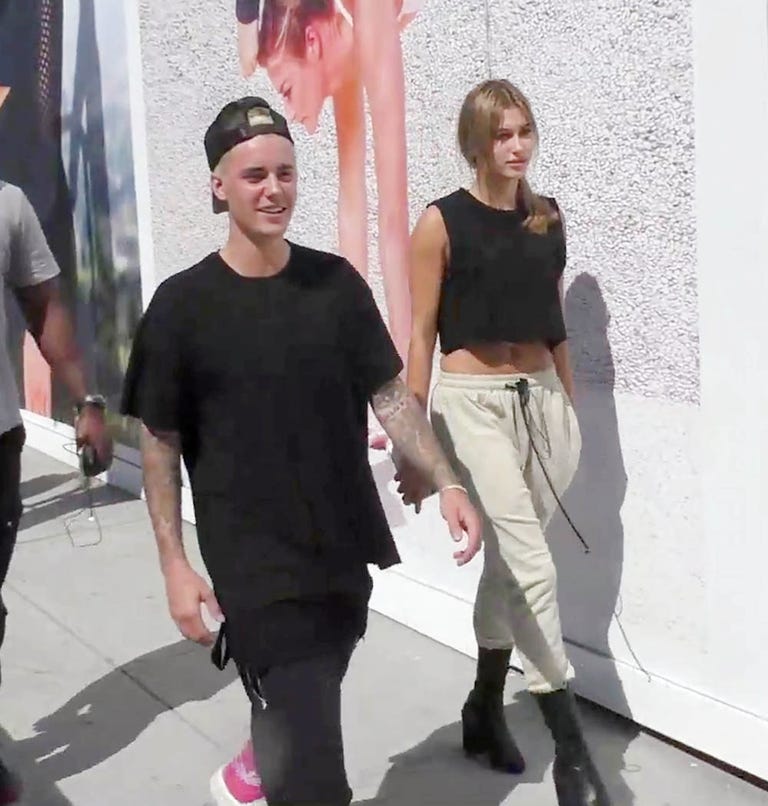 'Justin and I were friends for a long time,' she tells The Times about their rekindled friendship. 'I met him when I was really young and he was one of my best friends. Everybody knows that at a certain point in time that turned into something else, but that just happens when you're 18, 19. We went through a long period of time when we weren't friends. We didn't speak for quite some time and there was a lot of weirdness that went on. We've moved past that.'
June 11, 2018: The pair are spotted at church together and then later at a Miami club, this time getting a bit cuddly. Rumours that they're dating again start to swirl.
June 13, 2018: The pair is pictured loving paparazzi attention in New York, putting on a show and playing up to the cameras.
June 17, 2018: Fans capture a video of the couple making out on Brooklyn Bridge for everyone to see.
Justin also shares a video of Hailey on his Instagram stories, prompting fans to call this relationship 'Instagram official' again.
(2) Justin Bieber via Instagram Stories: pic.twitter.com/8hEoARu5wD

— Justin Bieber Crew (@TheJBCrewdotcom) June 23, 2018
June 29, 2018: Justin and Hailey go to multiple church services and also swimming in Washington, while a source confirms to Entertainment Tonight that these two are definitely dating. Unsurprisingly.
My dad was hot-tubbing with Justin Bieber & Hailey Baldwin this weekend and had no clue until he came home and showed me his pictures… #justdadthings pic.twitter.com/jUTS7SZm2K

— Jaycie Roth (@JaycieRoth) June 25, 2018
July 1, 2018: The pair is pictured making out again and, er, also filmed directing traffic after their car breaks down in The Hamptons.
#JustinBeiber & Hailey Baldwin casually directing traffic around their broke down Benz😳 #TheHamptons pic.twitter.com/rGWAPMSZtO

— Allison Ackerman (@BeachBlondeBOS) July 2, 2018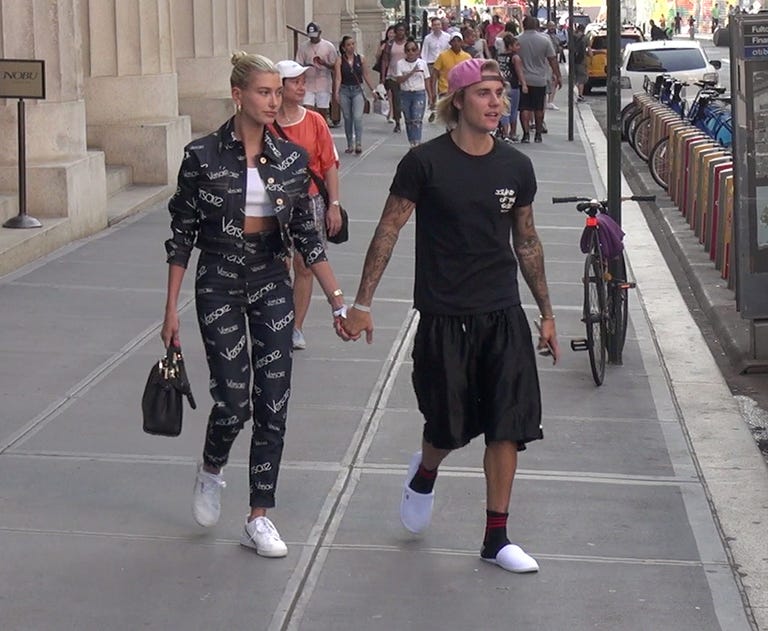 July 8, 2018: Surprise! Justin and Hailey are apparently engaged. TMZ reported Justin popped the question in the Bahamas, saying two eyewitnesses saw the engagement go down. 'Everyone was at a restaurant on the property doing salsa dancing when Justin's security told everyone to put their phones away, because something special was about to happen,' the site says. 'Justin then proposed in front of everyone.'
July 9, 2018: Justin's dad Jeremy shares an Instagram post with the caption, '@justinbieber Proud is an understatement! Excited for the next chapter!' Proud of what, eh?
July 10, 2018: Justin confirms the engagement with an emotional Instagram post, where he calls Hailey 'the love of his life'. The full caption reads:
"Was gonna wait a while to say anything but word travels fast, listen plain and simple Hailey I am soooo in love with everything about you! So committed to spending my life getting to know every single part of you loving you patiently and kindLY. I promise to lead our family with honor and integrity letting Jesus through his Holy Spirit guide us in everything we do and every decision we make. My heart is COMPLETELY and FULLY YOURS and I will ALWAYS put you first! You are the love of my life Hailey Baldwin and I wouldn't want to spend it with anybody else. You make me so much better and we compliment each other so well!! Can't wait for the best season of life yet!. It's funny because now with you everything seems to make sense! The thing I am most excited for is that my little brother and sister get to see another healthy stable marriage and look for the same!!! Gods timing really is literally perfect, we got engaged on the seventh day of the seventh month, the number seven is the number of spiritual perfection, it's true GOOGLE IT! Isn't that nuts? By the way I didn't plan that, anyways My goodness does feel good to have our future secured! WERE GONNA BE BETTER AT 70 BABY HERE WE GO! "He who finds a wife finds a good and obtains FAVOR from the Lord!" This is the year of favor!!!! [sic]"
July 10, 2018: Hailey shares the happy news on Twitter with her 1,2-million followers, writing, 'Not sure what I did in life to deserve such happiness, but I am so utterly grateful to God for giving me such an incredible person to share my life with! No words could ever express my gratitude. ❤'
Not sure what I did in life to deserve such happiness but I am so utterly grateful to God for giving me such an incredible person to share my life with! No words could ever express my gratitude. ❤

— Hailey Baldwin (@haileybaldwin) July 9, 2018
This post was originally published on Cosmopolitan.com
Read More Celeb