Ariana Grande might be dropping a new album in 7 hours, but she has some stuff to get off her chest before that happens. She's currently beefing on Twitter with the Grammys for their comments about her no-longer-happening performance on Sunday.
Earlier this week, reports came out that the Recording Academy told Ariana she couldn't perform '7 Rings.' Those reports alleged that she was angry about their refusal, and so not only did she pull out of performing, but she also decided not to attend the ceremony at all.
Then, the producer of the Grammys Ken Ehrlich gave an interview where he alleged that by the time they all reached a compromise, Ariana said she couldn't pull something together in time…
Direct quote: 'And it's too bad. She's a great artist. And I'd love to get her in the show this year.' PETTY. Ariana screenshotted that article and basically called them TF out on Twitter.
mhmmm here it is ! "too late for her to pull something together……" pic.twitter.com/YwuBOUkZjr

— Ariana Grande (@ArianaGrande) February 7, 2019
Here's her side of the story: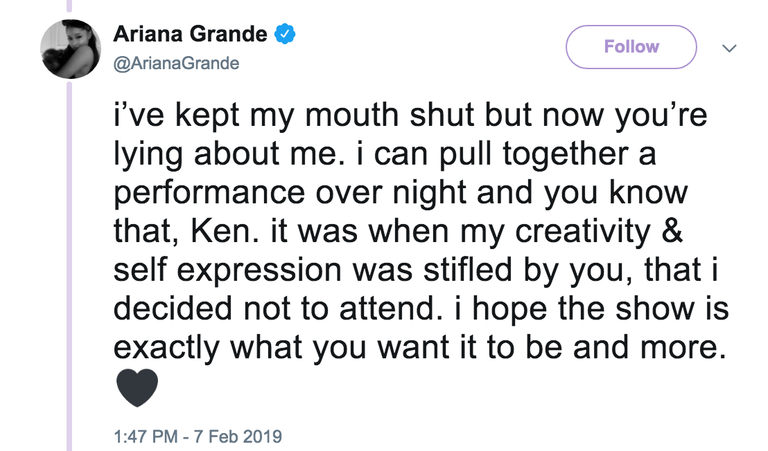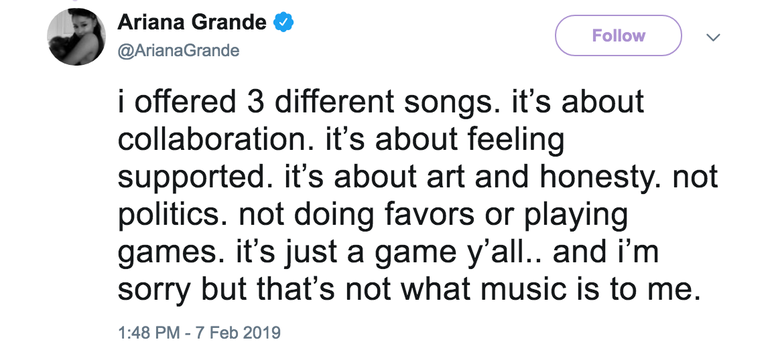 And this is truly LOL-worthy:

Despite all this, she clarified that she's still happy to be nominated.

*Grabs popcorn.* *Waits for Grammys to respond.*
This article originally appeared on Cosmopolitan US
Read more celebs