God Is A Woman, and her name is Ariana Grande!
Barely a day after she dropped the latest single from her album Sweetener, Ari has given us the greatest blessing of all: a glorious, super-extra, out-of-this-world music video directed by Dave Meyers that may or may not renew your faith in any/all deities out there. It features a lot of vaginal imagery, screaming groundhogs and … a preview into what Ari G would look like with a baby bump?! (More on that in a minute.)
Ever since her Break Free days, Ariana has been obsessed by space, the cosmos, and whatever may/may not be out there. And in this new MV, she's channelling that fascination by transporting herself into a different planet! Sure, why not?!
God Is A Woman is the most symbolically rich, and significant, set of visuals Ari has put out. The video starts off with the singer basically using the universe as her Hula Hoop. (Because, yes, she is the centre of the universe RN.) And naturally, because this is a feminist anthem, she ends up bathing in very suggestive primordial soup. Other vag references include A LITERAL WOMAN CAVE.
And, of course, there's a scene that throws shade at all the male haters and mansplainers, with her in a pose reminiscent of The Thinker: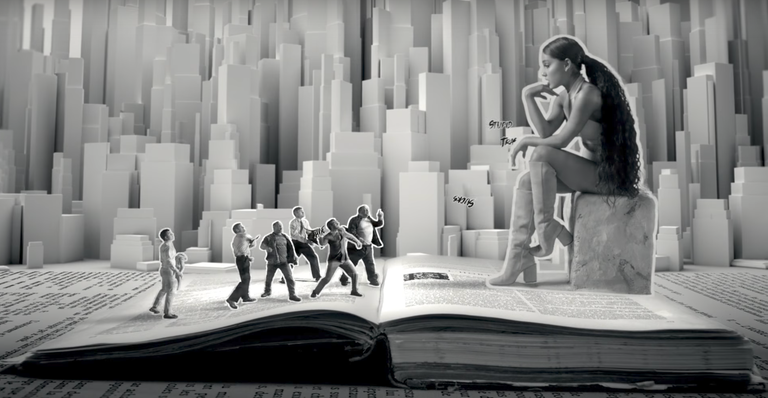 There are religious references aplenty, with Ari and her Church dancing it out in white, cult-ish robes, a revised bible verse (Ezekiel 25:17) reportedly read by the pop queen herself – and one of AG's closest friends – Madonna, and Ari making like Eve walking in the Garden of Eden. In the lyrics 'And boy, if you confess, you might get blessed/See if you deserve what comes next', she shows something no-one would have expected: a baby bump.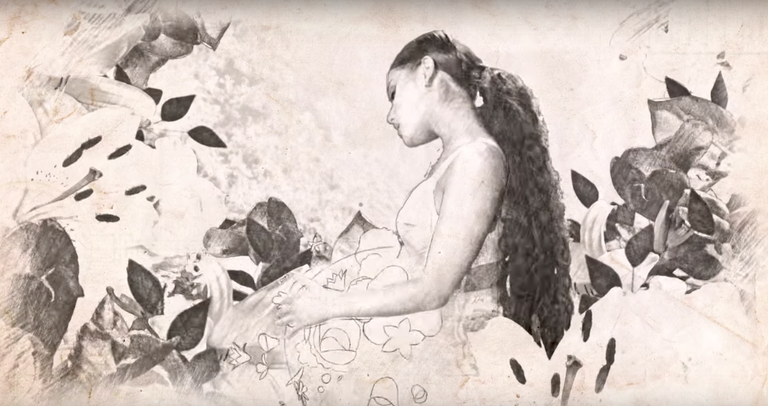 While this may not mean anything, this artsy image has definitely put the thought in everyone's heads. Could she be pregnant with Pete Davidson's baby? Did she put it in there just to mess with us? Is this because she's getting ready to settle down?
There are a lot of references to ancient Greco-Roman art peppered throughout the video. But of course, the culminating image had to be something powerful: the whole thing ends with her take on one of the most famous religious images of them all: 'Creazione di Ariana' (Creazione di Adam).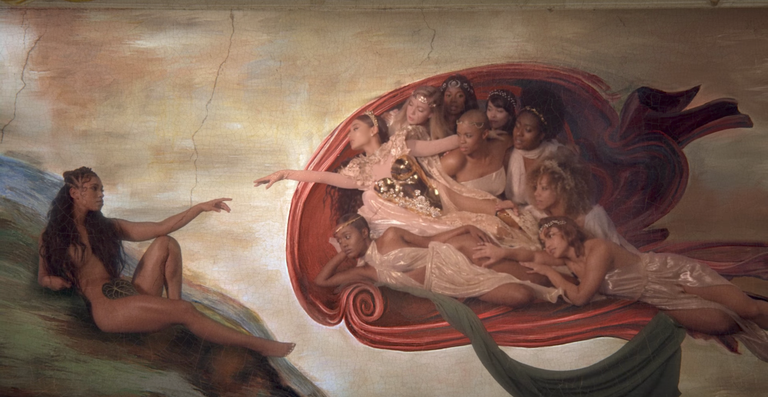 Print it out and frame it, y'all! It's art. And Twitter agrees:
ARIANA GRANDE IS ART. pic.twitter.com/FMjMJF5FRO

— best of ariana. (@aarchivesgrande) July 13, 2018
https://twitter.com/goodnightandgod/status/1017747523165831170
She is the one who will defeat Thanos, and her name is Ariana Grande pic.twitter.com/KDCChQ10lo

— starfire (@RohanGrande) July 13, 2018
ME AFTER WATCHING THE #GodIsAWomanVideo #GodIsAWoman pic.twitter.com/3Q7CNBsNRV

— ? (@IBieberGrandex) July 13, 2018
#GodIsAWomanmusicvideo @ArianaGrande really came and took everyone's wigs including her own cause these visuals pic.twitter.com/WEI4aS1uVd

— Jac (@J_TheLostArtist) July 13, 2018
This post was originally published on Cosmopolitan.com
Read more celebs