ICYMI Ariana Grande and Pete Davidson have reportedly split up after a five month whirlwind engagement and we're all still pretty cut up about it.
The former couple are yet to speak out on the shock break up, however apparently, 'both parties acknowledge that it simply was not the right time for their relationship to take off.'
While the dust settles on this sad news and we all try and figure out whether love exists after all, there's the small matter of Ari and Pete's long list of matching tattoos to think about.
It might be easy to throw out your ex's hoodie and rip up those old cinema tickets, but these inkings are going to be harder to forget about…
Pete's Bunny Tattoo
Not long after they went public with their relationship, Saturday Night Live star Pete showed off his Ariana-themed bunny tattoo on social media.
The mask tattooed behind his ear was very similar to the one that Ariana wears on the cover of her Dangerous Woman album.
Although eagle-eyed fans noticed Pete has since covered up the inking…
What happened to Pete Davidson's tattoo of the Dangerous Woman bunny ears?? #SNL pic.twitter.com/fXLQpD7f5z

— zach (@zacheese1) October 7, 2018
'AG'
Following up the neck tatt, 24-year-old Pete had the initials 'AG' on his finger. And it's not hard to work out what that one means.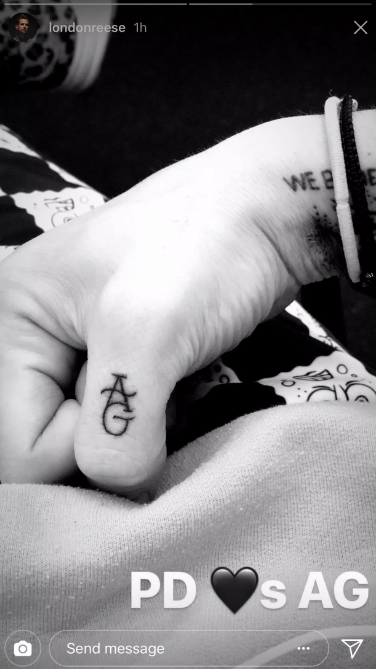 Ariana's 'Pete' Tattoo
Repaying the favour, Ariana, 25, got her former fiancé's name inked on her ring finger where she also wore a £70k diamond that he gave her.
H2GKMO
Back in June, Pete and Ariana got *another* matching tattoo along with some friends which reads 'H2GKMO'.
Apparently, this means 'honest to God knock me out' – something Ariana once tweeted, and has since become her favourite saying.
Matching Clouds
Soon after confirming their engagement, the couple revealed their very first matching tattoos with tiny clouds on the middle fingers of their left hands.
Apparently, they're a nod to Ariana's Cloud fragrance.
'Grande' Tattoo
This one is not so subtle… Pete debuted his huge 'Grande' at the John Elliott show during New York Fashion Week which appears on his right side, vertically along his ribcage.
'8418'
One of Ariana's most recent inkings is the number '8418' which she got permanently etched on her foot.
This represents the badge of Pete's late father who was a firefighter but passed away in 9/11. Pete has the same number on his left arm.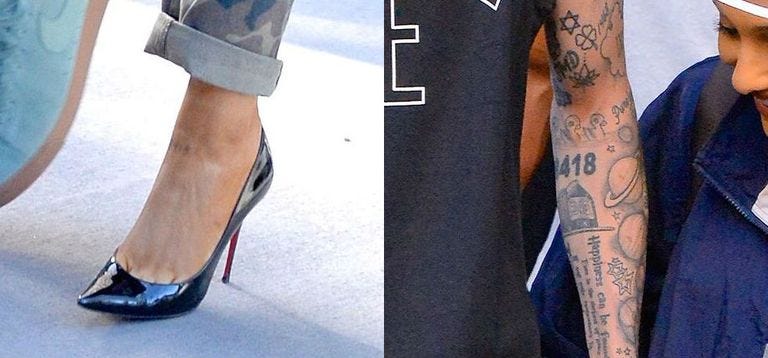 The Pig Tattoo
After the pair took the next step in their relationship and adopted a baby pig, Pete added a tattoo of Piggy Smalls to his collection. Let's just hope we haven't got a custody battle on our hands.
Mille Tendresse
Just last month, Pete got the French phrase 'mille tendresse' on the back of his neck in exactly the same place as Ariana.
Made famous on Breakfast at Tiffany's, the quote translates to 'a thousand tendernesses'.
Ariana's 'Always'
Ariana showed off her new ribcage inking in July and it's thought to have been written in Pete's handwriting.
Some fans have also pondered whether it could be reference to their shared love of Harry Potter.
This article originally appeared on Cosmopolitan UK
Read more celebs