Meghan Markle and her mom Doria Ragland shared the sweetest moment at the royal wedding today, but their close bond also brought to mind a family member, not in attendance. Prince Harry's late mother Diana, Princess of Wales passed away just over 20 years ago, and while her presence was sorely missed, the couple found multiple ways to remember her spirit.
All three of her siblings attended the ceremony at St George's Chapel in Windsor Castle in her memory, but a number of hidden, subtle touches also made her a part of the special occasion. Here's how Prince Harry and Meghan Markle paid tribute to the mother of the groom today:
1 Her Sister Gave the Reading
Princess Diana's older sister Lady Jane Fellowes spoke at the ceremony as previously announced by Kensington Palace. 'Prince Harry and Ms Markle both feel honoured that Lady Jane will be representing her family and help to celebrate the memory of the late Princess on the wedding day,' the statement read.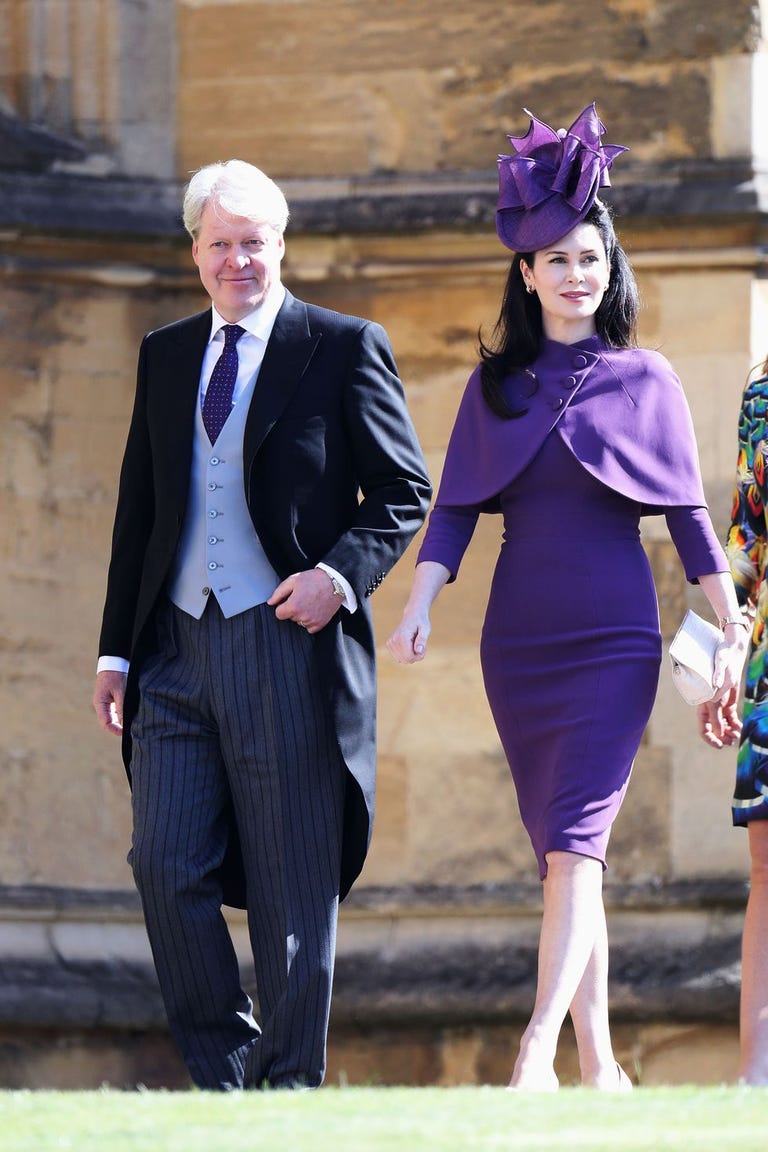 Older brother Charles Spencer (pictured with his wife Karen Spencer) and sister Lady Sarah McCorquodale lent their support as well. Charles Spencer, 9th Earl Spencer, currently owns Althorp, the family estate where his youngest sister is buried.
3 The Ring Includes Gems From Her Collection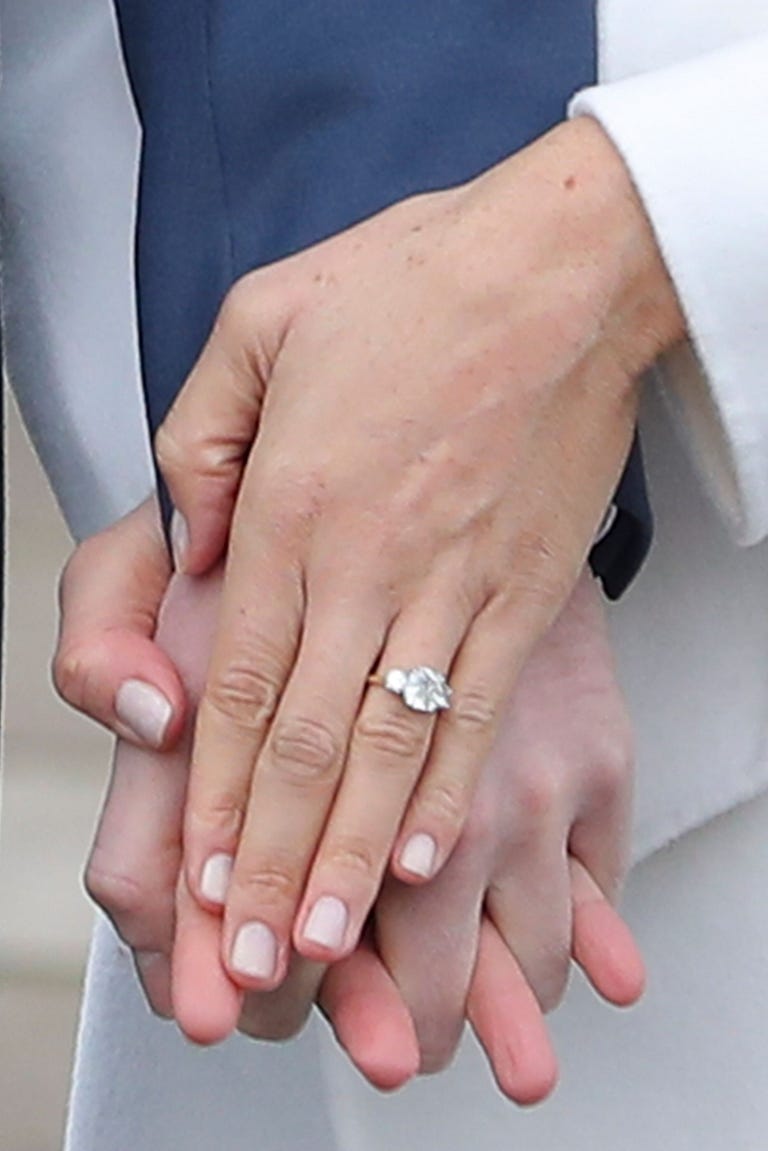 Prince William proposed to Kate Middleton with Princess Diana's sapphire wedding ring, but Prince Harry also had plenty of jewels to choose from. He picked out two diamonds once belonging to his mother 'to make sure that she's with us on this crazy journey together,' he told the BBC. They flank a centre stone sourced from Botswana in a custom design by court jewellers Cleave and Company.
'It's so important to me to know that she's a part of this with us,' Meghan added.
4 Meghan Copied an Element of Her Vows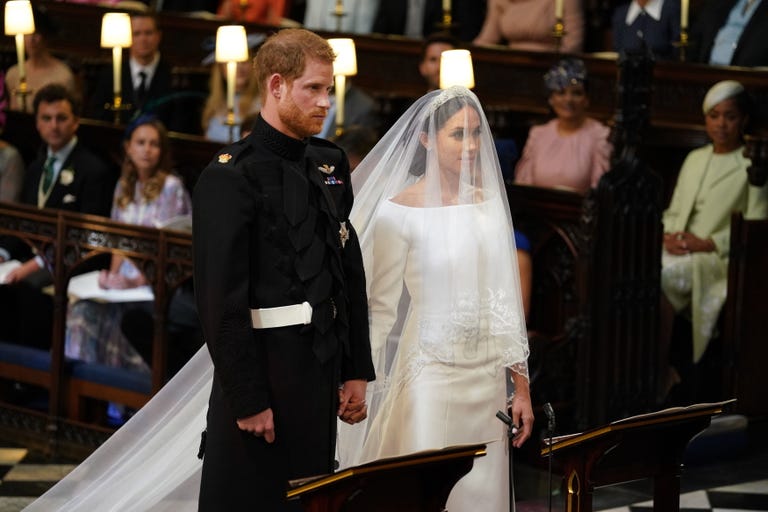 Diana, Princess of Wales caused quite a stir when she promised not to 'obey' her husband in her wedding vows. Other royal brides have since followed in her footsteps, including Kate Middleton. It's no surprise that feminist icon Meghan Markle promised to love, comfort and honour Prince Harry, but not obey him.
5 They Used Very Symbolic Flowers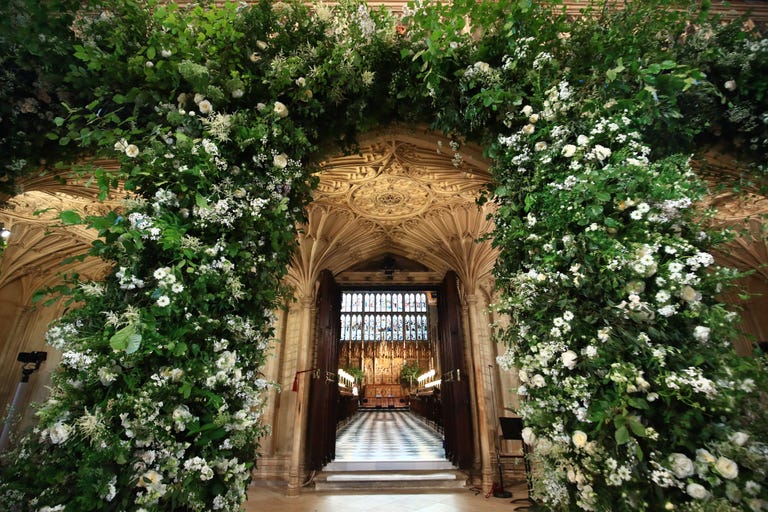 The couple's florist Philippa Craddock primarily used flowers that bloom naturally this time of year, including peonies, foxgloves and, most touchingly, white garden roses. Princess Diana reportedly loved these fragrant flowers and even has one variety named after her. They also grow in the White Garden at Kensington Palace, which was re-planted in her honour and served as the location of the couple's engagement announcement.
6 And Included Her Favourite Ones in The Bouquet

Meghan's bouquet included Forget-Me-Nots, which were Diana's favourite flower, Kensington Palace confirmed in a statement. 'The couple specifically chose them to be included in Ms Markle's bouquet to honour the memory of the late Princess on this special day,' the announcement read.
7 They Played a Hymn Also Sung at Her Funeral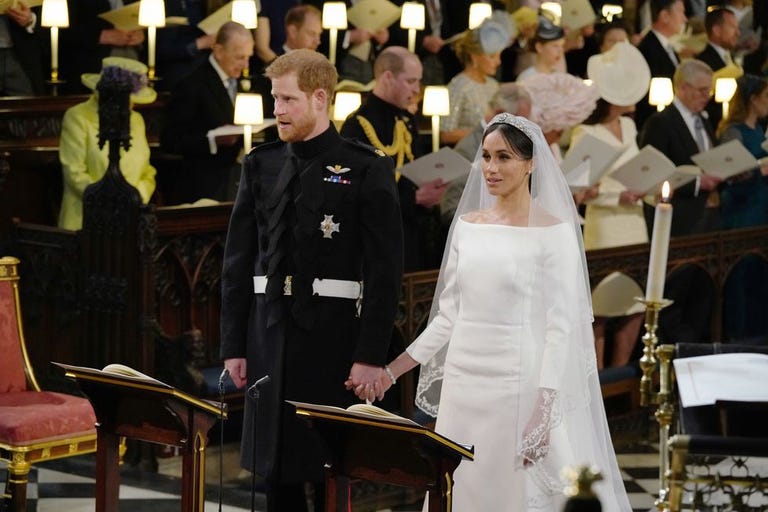 The song Guide Me, O Thy Great Redeemer featured in both services. Welsh hymn writer William Williams wrote the words some 300 years ago.
8 They Honoured Several of Her Favourite Causes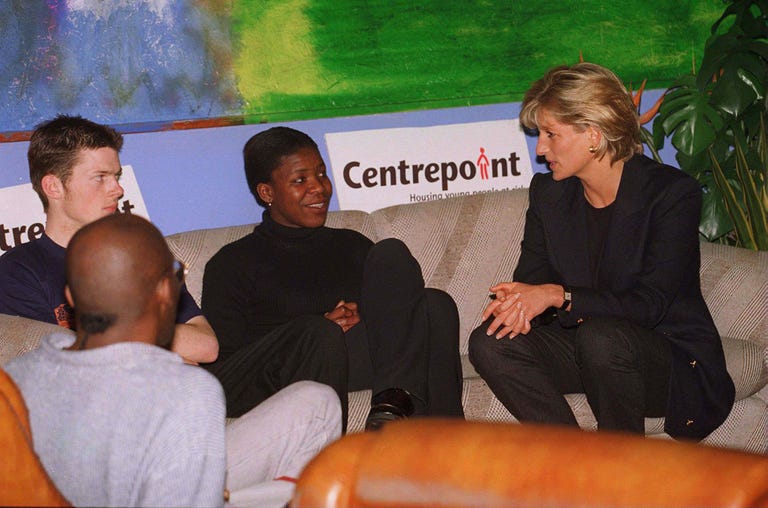 In lieu of wedding gifts, Prince Harry and Meghan Markle requested well-wishers to make donations to one of their favourite charities. Two of those included CHIVA (Children's HIV Association) and Crisis, a nonprofit working to end homelessness. Princess Diana also campaigned on behalf of these issues, famously shaking the hands of AIDS patients when people incorrectly assumed the disease could be transmitted by touch. She also met frequently with homeless youth, collaborating with the organisation Centrepoint.
This post was originally published on Cosmopolitan.com
Read more Royal Wedding