So we know what you're thinking: washing your face is as easy as, well, washing your face. But while it may seem pretty basic, there actually is a fine art to getting the most out of your cleansing ritual. Read on for our six easy-peasy steps to help you wash your face like a boss.
STEP 1: SO NICE YOU DO IT TWICE
The most important thing you need to remember is that washing you face protects skin from pore-clogging bacteria that could result in those things we absolutely love called zits. It's SO important to wash your face twice daily, in the morning and before you go to bed, to keep it as clean and radiant as possible.
Ensuring that your face is cleansed, toned and moisturised before you put on makeup and go out into the world protects it from harmful environmental factors and South Africa's ruthless sun. Doing the same at night aids skin as it rejuvenates while you catch those ZZZs. Both are equally important, so make time for them.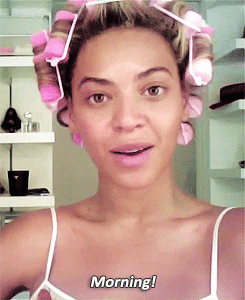 STEP 2: MAKE A RITUAL OF IT
If you're anything like us, you won't be on top form just after you've woken up. (What even ARE morning people?)
Make your morning face-washing ritual easier with this A-mazing tip from Crystal Kasper of New Hipster: she likes to place her products in order of use to save herself precious morning time. Genius!
STEP 3: TIME TO CLEANSE
Using lukewarm water, wash your face with your cleanser of choice. Environ boasts a range of stunning cleansers that cater to various needs. Try the Original Pre-Cleanser and Gentle Cream Cleanser, or the Ionzyme® C-Quence Cleanser and the β-Active Sebuwash to find out which is right for your skin.
Oh, and BTW – lukewarm water helps remove dirt from skin without stripping and drying it out like hot water does. After washing, dab face dry with a soft, clean, good-quality towel. Don't rub your face – it can stretch and irritate skin. Just a tip, 'cos we care!
STEP 4: TONE IT UP
Yes, it's totally necessary to use a toner! Toner helps to restore the natural pH levels of skin while refining its texture. Again, Environ comes to the party with a range of toners, each one addressing specific skincare concerns. Try the Original Revitalising Toner, Ionzyme® C-quence Toner, β-Active Sebutone and Intensive Alpha Toner Forte.
Using a ball of cotton wool, gently apply toner to your face. Remember to focus on the problems areas – toner works wonders for an oily T-zone. Trust us.
STEP 5: MOISTURISE!
Probably the most important step of your skincare ritual is moisturising. Make sure you choose a vitamin-A moisturiser (fam, we've been TELLING you about the miracle that is vitamin A!) that meets your skincare needs. We love Environ's Original Moisturisers with the Vitamin STEP-UP SYSTEM™ that gradually introduces skin to the vitamins it needs. We also love the Ionzyme® C-Quence Serums and Créme. The two are mixed to produce stellar results, and also follow a STEP-UP SYSTEM™ that allows skin to get used to all the added vitamin-A love it's enjoying!
Side note: during the day, pick a day moisturiser and wear it under your sunblock. At night, you can use the same moisturiser, but add a layer of Super Moisturiser+ or a Hydrating Oil Capsule to your moisturising cocktail. These guys will help with the heavy lifting while you sleep peacefully.
STEP 6: EYE-EYE, CAPTAIN!
Don't forget the eye cream! The skin under your eyes is super-thin and sensitive, and needs all the moisture it can get. Treat this delicate area with a small, pea-sized dollop of eye cream – start by patting it just below the brow bone and work upwards. Let it settle for a minute or two before you apply makeup.
We looooove Environ's Ionzyme® C-Quence Eye Gel – check it out below.
Environ is sold exclusively through Professional Skin Care Centres. Click here to find your nearest stockist.
This is a sponsored post.