You know the deal. It's the night before graduation/your first day at your dream job/a date with that hottie and a pimple appears that basically has its own gravitational pull. Look, it's not the end of the world, and there are some steps you can take to deal with a break-out the night before your big event. Grab your pen and paper, fam.
1.NOOOO TOUCHY!
Dig into the very centre of your being and resist the urge to touch, poke, scratch or squeeze. No matter how tempting it is. Most people squeeze their spots from the side, which ends up forcing the infection deeper into the pore. This could result in scarring, which is obviously not ideal.
Just don't do it.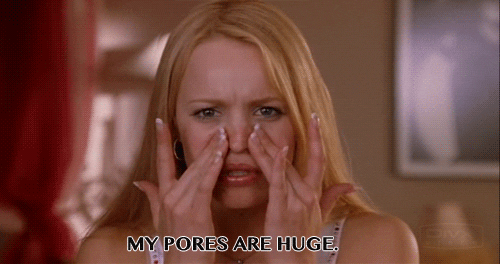 2.CLEANSE YOUR SKIN
If you're going to be performing some makeup Houdini-action on your spot, you're going to need to prep your skin beforehand. This means giving it a thorough cleanse with top-notch products.
We recommend Environ's amazing β-Active range, which is designed specifically to assist in blemish-proofing your skin. All of its products combat excess oiliness, but we need to give a special shout-out to Sebuwash – a product that gently deep-cleanses and leaves your skin looking refreshed. Seriously, it's Environ's best-selling product for a reason.
3.SOOTHE THOSE SPOTS
You're going to want to soothe the redness and inflammation that makes spots so darn awful. Again, Environ comes to the party with its awesome Sebuspot. Sebuspot tackles inflammation and redness AND relieves congestion. It's pretty much the bomb.
If you need more convincing, we have this to say: your faves swear by it! Crystal Kasper of New Hipster fame has been using Sebuspot during her four-month Environ journey, and has this to say:
'I absolutely love Sebuspot. It's pretty obvious why I love this product so much. It's one of the main products which targets my biggest skincare concern. Due to my continued use of Sebuspot, I've seen a drastic improvement in the appearance of my spots.'
4.COVER UP THE TRACKS
On the day, cleanse your skin using the β-Active products. Then, apply concealer to the area using a concealer brush (this prevents cakey-ness and further infection from your fingers).
We love Environ's Even More Cover+ Concealers – they're super-easy to apply and contain essential moisturising ingredients, antioxidants and vitamin E to help smooth and protect skin, leaving it beautifully flawless.
5. DON'T STRESS!
Seriously, when last did you notice somebody else's zit? We're going to hazard a guess that you can't even remember. That's because NO-ONE CARES! Keep being your fabulous self and you'll rock that interview/presentation/date like it ain't no thang.
Environ is sold exclusively through professional skincare centres. Click here to find your nearest stockist.
This is a sponsored post.