1 STREET STYLE
Street workouts are all the rage around the world, and it's easy to see why. They are the ideal motivation for girls who get bored easily. It all takes place outside, using the kind of equipment you might find in a gym – so look out for monkey bars, pull-up bars and suspension-training equipment. Don't get put off though: this isn't about counting squats. Rather, street sessions can be compared to a gymnastics lesson or CrossFit. Once you've warmed up and got your heart pumping with springs, jogging or tyre dragging, you'll do some stretching, and then it's on to the hard work: high-intensity weight training, doing exercises such as push-ups and pull-ups. You'll cool down with gym-style moves like handstands.
Where to do it Try street workouts at Just Physical Gym in Jo'burg (Justphysicalgym.co.za) or in Cape Town at Cape Calisthenics (Facebook.com/CapeCalisthenics). 
Related: Why Training During the Festive Season Is the Best
2 GET YOUR WARRIOR ON
Warrior racing is a high-impact, full-body workout designed around races of different lengths, from 5km to 21km. So far, so simple – except that every race includes a number of obstacles. You might find yourself crawling through a mud pit underneath barbed wire, jumping from a high tower or even leaping over fire. The most difficult courses include about 30 obstacles, so there's no denying that it's hard going. But it's also worthwhile: you train like a soldier, with the physical benefits to match. And if you participate competitively in races, there is lots of prize money to be won. Added bonus: you don't have to deal with gym aholes.
Where to do it Check out Warrior.co.za to find a race near you.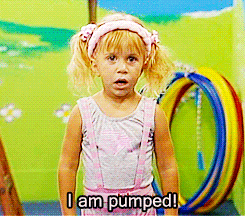 3 BOUNCE BACK
As a kid you probably spent hours on the trampoline. Guess what? As an adult, trampolining – or rebounding, as the experts call it – is just as much fun. Plus it's super-good for you: two minutes of vigorous bouncing has the same effect on your body as six minutes of running, 10 minutes of swimming, or 22 minutes of walking. It's great for toning, helps keep you flexible, helps with balance and coordination, and boosts your immune system. Although you might have 'sea legs' after a session, you won't have aching calves the next day – even though classes can be hectic. You'll start with a warm-up, then some dance or boxing moves, then you'll incorporate a little resistance with balls, rings and bands. Most trainers include ab exercises and a lymph pat-down before a stretch.
Where to do it Rebound classes are offered by The Body Workshop in Craighall Park; Thebodyworkshop.co.za.
Related: 9 Ways Your Inner Lazy Sabotages Your Workout
4 HULA, BABY!
Another childhood pastime that's turned into a massive fitness craze, Hula Hoops took Europe and the US by storm before arriving in South Africa. This is a low-impact exercise, so you can take part even if you're recovering from an injury. Not that the results are low-impact: hooping burns 2 500kJ per hour. And no, it's not just for your waist. Because you can use an oversized hoop to hula with any part of your body, you can expect to tone your tummy, arms, legs and back while improving your digestion and working on your flexibility and coordination. It's basically dancing, which makes it loads of fun – so the next day, when you're aching in places you didn't even know existed, you might forget why you're so stiff. In a class, you'll start by hooping with your waist in both directions, then move on to your upper body and butt.
Where to do it Find hooping classes in Johannesburg and Cape Town at Hooping.co.za.
5 STEP OUT
Finding Zumba a bit of a yawn? Take it to the next level with Zumba Step. This class gives you all the benefits of your usual Zumba class, plus the butt-blasting sculpting effects of a step class. No co-ords? Don't worry. The steps are easy to follow, and although dance forms a large part of the classes, they also incorporate a lot of moves from an old-fashioned step aerobics class. If you want Boity's bum, this is the one to go for!
Where to do it Zumba Step is available at Virgin Active Health Clubs nationwide.
Related: 10 Songs to Get You Moving
6 GRID GIRL
Got 12 minutes? That's all you need to work on your fitness with Active Grid. This class sees the studio floor divided into a grid with a number of squares or stations. You choose the stations according to what you feel like working on that day, whether it's fitness, weights, movement or strength. You'll have to complete a series of exercises, all designed around movements we do every day, before moving on to the next station. It's an awesome way to address your weak spots at your own pace.
Where to do it Active Grid is currently available at Virgin Active Waterfall Mall (Kyalami), Brackenfell (Cape Town) and Ballito.
Related: 6 Stages of Regret After Overdoing Your Weights Training
Read more health and fitness articles
Read more about body health
Fine more mind health tips