Crystal Kasper of New Hipster has the kind of Instagram feed reserved for celebs or, I don't know, flawless goddesses from another realm entirely.
Oh nothing, just looking casually like an absolute angel!
It came as a huge surprise, then, to learn that she struggles with the same skin care concerns as us mere mortals. Break outs, vibe-killing spots and uneven skin tone, to be exact.
Crystal understands that makeup can only do so much to rectify the appearance of your skin. To achieve that radiant, dewy glow we all covet so much, you need to get the basics right. That's why she's embarked on a four-month skin care journey with Environ to learn about her specific skin care needs and to say goodbye to spots for good.
We caught up with her after her second month of using Environ, and she shared these five pearls of wisdom with us.
1) IT SHOWS THOSE SPOTS THE DOOR
Breakouts and uneven skin tone are Crystal's biggest skin concerns, but since using Environ she's seen a drastic improvement in these areas. Crystal experienced her first breakout since switching to Environ, but noted that her spot cleared up within a couple of days. This is huge improvement on those weeks-long, impossible-to-properly-get-rid-of-kinda-like-any-photographic-evidence-of-that-terrible-haircut-you-once-had spots she's suffered from in the past.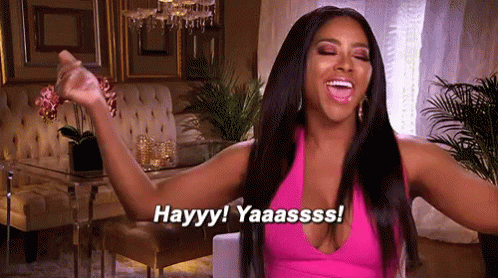 2) YOUR SKIN IS UNIQUE
Every single one of us has unique skin, with unique needs, and it's important to understand those needs before your skin can be #RebornBeautiful. Environ can help you identify your skin's specific requirements and then tailor a routine to deal with them. It also has an incredible vitamin A-based STEP-UP SYSTEM™ which allows you to slowly introduce your skin to vitamin A (and its incredible benefits) in line with your skin's particular requirements. Talk about comprehensive!
If you're in the mood to really #TreatYoself, Crystal recommends having a thorough skin analysis done by one of Environ's ah-mazing skin care professionals. This will give you a clear understanding of your skin, and will help you select the products needed to transcend the realm of skin issues and truly achieve glowy glory. That's a thing, by the way.
3) GET ORGANISED
At first, Crystal found it a little hard to remember the steps of her skin care routine. She rectified this by implementing a system whereby she just displays her products (they look so pretty, BTW) in her bathroom in the correct order of use. Winning!
4) SEBUSPOT IS LIFE
"I absolutely love my Sebuspot. It's pretty obvious why I love this product so much. It's one of the main products which targets my biggest skin care concern. Due to my continued use of Sebuspot I've seen a drastic improvement in the appearance of my spots."
We couldn't have said it better ourselves.
5) PEOPLE REALLY NOTICE
Crystal hasn't stopped receiving compliments regarding her stunning skin.
"I've been told that I look better without makeup and I'm not sure how to take it…. It probably means that I'm really bad at applying makeup, hahaha, or that my skin is just really that good!"
For more info on her journey, visit her blog here.
For more info on the products she's using, follow the links below:
Environ is sold exclusively through Professional Skin Care Centres. Click here to find your nearest stockist.